07/02/07

Some UK cattle producers could make up to an extra £24 per animal this summer simply by changing their usual worming regime.

Many worming regimes fail to maximise the financial return producers can make over a 150-day grazing season.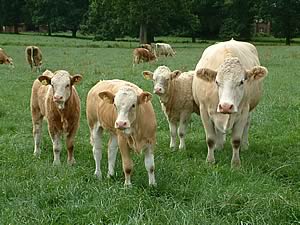 That's the message from Schering-Plough Animal Health, pointing out that many worming regimes fail to maximise the financial returns cattle producers can make over a normal 150-day grazing season.
"With the removal of headage payments, it makes sound economic sense to keep young grazing cattle growing as fast as possible. Any first season weight gain setbacks due to worms will be extremely costly," says Schering-Plough livestock veterinary adviser Paul Williams MRCVS.
"It's crucially important this year that worming regimes keep the worm challenge low enough throughout the whole grazing season to avoid growth checks. Worm parasite infections result in lost income - primarily through loss of appetite and lung damage, which can slow cattle growth," he points out.
Paul Williams estimates that around 60% of calves reared in the UK are done so in a way that puts them at risk from lungworm infection and its associated growth setbacks, and recommends producers review their worming strategy urgently to avoid unnecessary financial losses this season.
He stresses that for optimum efficacy, a wormer should deliver a uniformly long period of grazing cover for all the major worms that affect UK cattle.
"To be effective, modern worming regimes must follow product manufacture guidelines to the letter, deliver a financial return by helping to maximise weight gain, be easy-to-manage and allow cattle to develop some level of natural immunity so that wormers are not needed in later life," he says.
He points out that farmers using the Autoworm First Grazer bolus - which provides seven doses of oxfendazole wormer, each automatically released every three weeks throughout the grazing season - can expect to make more money than if they follow some two or three dose pour on worming regimes. A financial benefit that is worth up to £24 per animal even after taking into account the respective wormers costs, he claims.
"Part of this cash advantage is down to the fact that an Autoworm bolus is administered only once at the start of the season, then keeps on worming the cattle while you get on with something else. It's a fantastically simple system that reduces labour costs compared with more staff-intensive, multi-dose pour on regimes that must be followed religiously to work effectively.
"On many mixed farms, pour on regimes can be difficult to implement - certainly around harvest time - but if cattle do not get the recommended pour on treatment on time, weight gains and financial returns will suffer," he says.

Free Autoworm Farm Pocket Book


Worm Cattle For Economic Growth This Season


CLA response to Avian Flu virus on a turkey farm in Suffolk