22/02/07

Kingshay has figures to show that lameness can cost over £6,000 per 100 cows in some herds through lost milk, treatment and labour costs and increased culling rates.

Lameness can cost over £6,000 per 100 cows in some herds through lost milk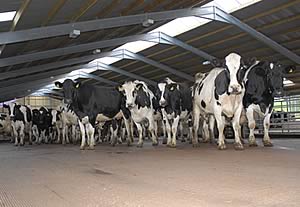 Their recently-issued series of technical notes on Foot Disease provide practical guidance to help you improve foot health in your herd.
Rob Mintern, Kingshay Technical Specialist, advises, "There are three elements to an effective lameness prevention plan. First of all cleanliness is essential, so you might have to examine your housing and scraping practices. Second, you and your farm team need to be vigilant in observing cows to identify and treat symptoms before they develop into problems. And the third and most important point is about the people involved; it is vital to promote teamwork among your farm staff, your vet and your professional foot trimmer if you want to improve locomotion in your herd."
The Kingshay Foot Disease technical notes, which are available to members by post or on Kingshay's award winning website, deal with practical methods to identify, treat and prevent foot problems in dairy herds. Kingshay also offers a Practical Workshop on Lameness Prevention. See www.kingshay.com for upcoming dates and venues.
For more information about controlling diseases of the foot in your herd, call Kingshay on 01458 851 555.
---
Working with milk producers throughout the UK, Kingshay provides practical decision support through unbiased Reports and Farming Notes derived from its farm and field scale evaluations and surveys - now available as a fully-searchable online resource. Services include the Dairy Manager TM herd management scheme - interactive and available online; independent soil, silage and grass analysis; and One-2-One TM on-farm advice. An extensive range of training workshops are also available.

The Magic Circle - Soil, Forage, Livestock


Free Autoworm Farm Pocket Book


Worm For Cash This Grazing Season