20/02/07

A Limousin firework display lit up Carlisle on Saturday 17th February 2007 at the breed's annual Spring Sale as a high quality show of bulls smashed the pedigree record books. Queenshead Altea, a Greensons Gigolo son from Pat and John Varley, Myrtle Grove Farm, Queensbury, Bradford, West Yorkshire led the way when selling for export to Southern Irish breeder Tom Bailey, Culcommon, Batterstown, Co. Meath for 52,000gns. This is the highest price paid for a Limousin bull for export and is the third highest price paid for any Limousin bull at auction.

Queenshead Altea - 52,000gns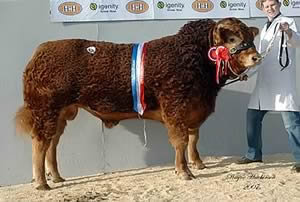 One of the biggest audiences of people seen at a pedigree sale in Carlisle added to the electric atmosphere as pedigree breeders and commercial producers lit the blue touch paper and set the record books alight. The £5,175.59 paid for 127 bulls sold was a continental breed and Carlisle centre record average and up over £1100 on the year. In the junior section, 31 bulls sold for an incredible £8775.97, again an all-breed record average. The sale grossed a mighty £657,299.93, a Limousin sale record and up by over £138,000 on the year. With a home nations theme, breeders from Northern Ireland and Wales set records for the highest priced Limousin bulls sold from those countries at 29,000gns and 26,000gns respectively. In all, four bulls sold for over 20,000gns, with nine bulls over five figures and twenty three over 6,000gns. 127 bulls sold out of the 190 forward at a clearance rate of 66%. The corresponding 2006 sale figures had also seen the inclusion of Haltcliffe Vermount at a world record 100,000gns price.
Centre stage for two days was Queenshead Altea breeders and sellers, Pat and John Varley from Myrtle Grove Farm, Queensbury, Bradford, West Yorkshire. On Friday, their August 2005 born bull had secured the Junior and Overall Supreme Championships at the pre-sale show under the eye of the judge, Jim Mulholland, a breeder and butcher from Midtown Farm, Great Orton, Carlisle. Remarkably, the Queenshead herd itself comprises just four breeding cows with Queenshead Altea being out of the Ronick Iceman sired Ryedale Parfait, the first cow the Varleys bought when re-stocking after FMD, from Peter and Anne Lang's Ryedale herd. This was their first Carlisle Champion and needless to say, top price to date. In 2004, the Varleys had purchased the Greensons Gigolo sired heifer Cockleshell Tiffany from Lincolnshire breeder Peter Pitcher at the International Limousin Congress Sale held at Borderway. As a consequence of this heifer they used Gigolo to A.I. Ryedale Parfait, which has proved an inspired decision. The Queenshead herd is a supplementary activity to the Varley's main business of metalwork manufacturing.
A marked new dynamic of the sale was the presence of several leading breeders from Southern Ireland looking to purchase stock bulls. This export potential manifested into reality when noted breeder Tom Bailey, Co. Meath, through his stockman in attendance Pat Greaney, stood up to the plate and bought the day's top price at 52,000gns which was a record price for a Limousin export. The Bailey herd numbers forty pedigree Limousin cows in all which are run beside flocks of pedigree Texel and Suffolk sheep. Commenting on his purchase, Mr. Greaney said: "This was a lovely bull that immediately caught my eye. He was well balanced throughout and not extreme in any trait. He had a very good top line and an above average backend. I loved the fact that his pedigree was so proven and had a fantastic balance between muscle and milk." This was the first time Mr. Greaney had been to a BLCS Bull Sale at Carlisle and whilst visiting 'on spec' he was absolutely delighted to immediately find the type of bull he was looking for.
In the first instance, Queenshead Altea will head back to the Varleys prior to entry and semen collection at Cogent in Cheshire. It is hoped that semen will be available for world wide use once the first calves are on the ground in the Baileys herd.
Commenting Iain Kerr, BLCS Chief Executive said, "Commercial producers are investing in cattle that provide high performance, ease of management and are market relevant. Breeders are totally focused on providing high quality, premium earning bulls and this continues to drive the quite spectacular demand we are seeing for the breed, commercially and pedigree, both at home and abroad. The records set at this sale are fantastic but it is important to note the strength in depth throughout the catalogue with real quality bulls available to suit all markets and budgets."
A much anticipated bull was Ampertaine Abracadabra from Messrs WJ & J McKay, 88 Kilrea Road, Upperlands, Maghera, Co. Londonderry. This son of noted sire Sympa was out of the Stocdales Muscular daughter Ampertaine Penny, a bloodline that combined both muscle and milk. Abracadabra arrived at Carlisle with the full package of visual presence and performance. At the 2006 Royal Ulster Show he won the Junior Male Limousin and was part of the Champion Pairs. Later he was also judged as the Best Young Bull in the N.I. Herd Competition. With tremendous figures for muscle and a massive Beef Value of LM+48 this was a bull that caught the attention. Having won his junior section class in the pre-sale show, Abracadabra was eventually placed Reserve Junior Male Champion. Sold immediately after the Overall Champion, Ampertaine Abracadabra made 29,000gns, a record for a N.Irish Limousin bull when he was purchased by the syndicate of three breeders, P Smyth, 27 Greenhill Road, Coleraine, J Rafferty, 27 Scaffog Avenue, Enniskillen, Co. Fermanagh and AJ Ewing, Drumbretton, Annan, Dumfriesshire. Mr. Smyth noted that the bull would be used on Carmorn Voney, the 2006 Royal Ulster Champion and that the syndicate planned to collect semen from the bull at AI Services in Northern Ireland.
The third last bull in the ring was Cowin Anton from WD Dyfan & Carol James, Blaencowin Bryn Iwan, Cynwyl Elfed, Caerfyrddin, Sir Gaerfyrddin. Barely fifteen months old, this stylish and muscly calf had won the last class in the show's junior section. Sired by Milbrook Tanko, who is out of the noted Cannon daughter Monique, Cowin Anton's dam is Banon Redbreast which features the James' favoured Preselihill bloodline. After some fierce bidding this bull was sold for 26,000gns and went to the entirely commercial operation of noted commercial calf producers, R&M Scott, Thirlwall castle, Greenhead, Cumbria. The Scotts run 400 Limousin suckler cows, all of which are put to the Limousin bull, and are prolific calf sellers at the spring and autumn sales in Carlisle. Keeping the record theme going, this was the highest priced Limousin bull sold by a Welsh breeder at auction and it is believed to be the highest price paid by an exclusively commercial producer for a Limousin bull.
JK Goldie, Townfoot, Mouswald, Dumfries, sold the September 2005 born Goldies Apollo for 20,000gns to the Elmtree herd of Mr RA Walker, Elm Tree, Great Asby, Appleby, Cumbria. Again a first prize winner from the junior section, this embryo calf is by the Ideal 23 son Goldies Terence and is out of Ronick Isabelle. Isabelle herself is out of Ronick Esther, the mother of the noted Ronick Hawk, and is the dam of Goldies Unionflag who sold for 12,000gns at Carlisle.
Leading the bulls from the senior section at 18,000gns was appropriately, the show's senior champion, Norman Aphrodite from ES & E Norman, Little Orton Farm, Little Orton, Carlisle. This classy bull was sired by the Jockey son Heathmount Trojan a bull that was Overall Champion at the Royal Ulster Show in 2003 and who won the North West Bull Derby in 2006. Aphrodite is out of Stacey Olivia, a dam from the Stacey herd that the Normans purchased when restocking after FMD. In 2006, the Norman herd was placed second in the Extra Large Herd section of the region's herd competition. Purchasing Norman Aphrodite was local breeder D&V Hill, Whitewall, Great Asby, Appleby, Cumbria for their Raysonhall herd.
Described as the best bull he has sold to date was Normande Arapaho from N&E Crucikshank, Cowford Farm, Cleghorn, Lanark who also made 18,000gns. This powerful bull with weight and scale is sired by the Ionesco son Ravageur who himself is a previous Junior Champion at the Royal Highland in 2002. A July 2005 born bull, Arapaho was yet another first prize winner from the junior section. He is out of Normande Nerys a daughter of Normande Judge who is noted for breeding big cows with milk. Normande Arapaho carried a fantastic Beef Value of LM+39 and this all-round package attracted joint purchasers in the shape of breeders JK Goldie, Townfoot, Mouswald, Dumfries and Castlewigg Farming Co Ltd, Whithorn, Newton Stewart, Wigtownshire.
Bailea Andre, from MT Jones, Bailea Farm, Heol Senni, Sennybridge, Brecon was another impressive son by French sire Salomon. A real carcase type Limousin, this May 2005 born bull is by the Nestor sired Salomon and is out of the thirteen year old Bailea Izbicki, a daughter of Greensons Gigolo. Bailea Izbicki is the dam of Bailea Olympia, a bull purchased by the Ronick herd for 14,000gns in May 2000 at Carlisle. In the pre-sale show Bailea Andre took first prize in his class before placing Overall reserve in the senior section. This bull headed over the water when selling at 16,000gns to the Heathmount pedigree herd of McKinney Brothers, 91 Craigadick Road, Maghera, Co. Londonderry, N.I. Later in the day another Salomon son, Bailea Almighty made 8000gns when selling to TR&EA Millburn, Wall End Farm, Greenhead, Carlisle. A July 2005 born calf, Almighty is out of the Imposant dam Bailea Meryl.
Selling at 13,500gns was Hafodlas Auron from AH&GW Roberts, Hafod Las, Ysbyty Ifan, Betws-Y-Coed, Gwynedd. This big July 2005 born bull is sired by the Jacot son Saphir who is a half brother to the noted Requin and is out of the Cannon sired Rombalds Jewel. In 2006, Saphir won the Best Stock Bull and Progeny section of the NW Mids and North Wales Limousin herd competition. Purchaser was the Killerton pedigree herd at Columjohn Farms Ltd, Columjohn, Rewe, Exeter. A super day's trading for the Hafodlas herd was confirmed when Hafodlas Abram later sold for 8,800gns to W McLaren, Muirhouses, Kirriemuir, Angus. Another calf sired by Saphir, Abram is out of the homebred Hafodlas Petal.
A Sympa son, Haltcliffe Anzac, from the herd of Messrs Ridley, Haltcliffe, Hesket New Market, Wigton was the final bull to make over five figures when selling at 11,000gns. Fully French bred, this June 2005 born bull is by Sympa and is out of the Nenuphar sired Romance. A full brother to Haltcliffe Upperity, the Reserve Female Champion at the ILC Show in 2004, Haltcliffe Anzac was sold with an excellent Beef Value of LM+37. This bull also went to the South West of England when selling to the Loosebeare herd of EW Quick & Sons, Loosebeare Manor, Zeal Monachorum, Crediton, Devon. A few lots later and the Ridleys were back to sell Haltcliffe Argonaut for 9000gns. This June 2005 born calf is sired by Penyrheol Sam, the Ronick Hawk son who sired the world record priced bull Haltcliffe Vermount. Argonaut, out of the Sympa sired Haltcliffe Unsung, was purchased by AE Jones, Gulligillion Farm, Llanedi, Pontardalois, Swansea.
George Hutton, Setmabanning, Threlkeld, Keswick, Cumbria enjoyed another prolific day which peaked at the 9,500gns he received from Glenlyon Estates, Keepers Cottage, Fortingall, Aberfeldy, Perthshire for Cloughhead Albert. This June 2005 born bull is by the French sire Saiga and is out of the Petunia sired Cloughhead Susanna. Susanna's dam Cloughhead Jolly is the full sister to the noted Cloughhead Lord.
Brontemoor Ambrose, a twenty month old bull from Steven M Priestley, Hill Top Farm, Denholme, Bradford made 9000gns when selling to CG Simpson & Sons, Square House Farm, Quebec, Co. Durham. By the Greenwell Major sired Haltcliffe Olympus, Ambrose is out of the 1998 born Brontemoor Odyssey, a daughter of Mereside Bevan.
Homebyres Albert, a June 2005 born bull, secured another 9000gns price for Messrs John Logan, Humebyres, Kelso, Roxburghshire. Again by the prolific sire Sympa, this bull is out of Homebyres Melody. Selling with a high Beef Value of LM+39, Albert was snapped up by J Hunter & Sons, The Steel Farm, Bellingham, Hexham, Northumberland.
R Neill & Partners, the recently crowned Beef farmer of the Year for 2006, from Upper Nisbet Farm, Jedburgh, Roxburghshire, was also in buying action when he secured Scotchtown Anvil from L&R Allison, 288 Seacoast Road, Limavady, Co. Londonderry, Northern Ireland for 9000gns. Scotchtown Anvil is by the noted Ronick Gains son Shire Milton and is out of the homebred cow Scotchtown Ursula. This October 2005 born bull had excellent figures for muscle, growth and milk and was sold with another high Beef Value of LM+39.
Averages:
44 Senior Bulls £3,689.65
52 Intermediate Bulls £4,307.02
31 Junior Bulls £8,775.97
127 Bulls £5,175.59 (plus £1,146.13)

Sexed Limousin Semen - A World First!


Limousin Cattle Society Sales Exceed £4.5 Million In 2006


Bailea Limousin Heifer Sells For 21,000gns