09/02/07

Limousin has become the first beef breed in the world to take advantage of sexed semen technology. In partnership with leading AI company Cogent Breeding Limited, Northern Ireland Limousin breeders, Raymond & Stephen Crawford have had sexed semen collected from their two Limousin bulls, Sauvignon and Vigot.

Ania Mikulska, Top Farms with Limousin bull, Vigot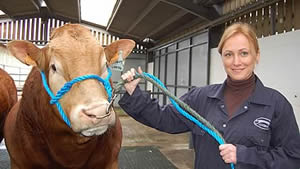 Sexing semen has been pioneered by Cogent and means that over 90% of all sperm in a straw are female allowing more female offspring to be born. This new technology has already met with significant interest in developing export markets.
The Crawford Brothers run the Rathkeeland & Newlittlemount herds in Maguiresbridge, Co Fermanagh, Northern Ireland and their two bulls have been housed and collected at Cogent's five-star Beachin Stud facility near Chester since the autumn of 2006, making them the first Limousin bulls in the world to have sexed semen made available.
Sauvignon is a five year old senior bull and was a prolific show ring winner in 2006, completing a hat-trick of prizes with Reserve Male Champion at the Royal Show, Supreme and Reserve Interbreed Champion at the Great Yorkshire Show and finally Male Champion at the Royal Welsh Show. His sexed semen partner, Vigot, is an exciting young bull, whose prize-winning run in 2006 included the Junior Male, Reserve Overall Male and Junior Interbreed Champion at the Great Yorkshire alongside the Reserve Male Championship title at Royal Ulster.
Cogent has been at the forefront of sexed semen technology since 1998 and are the industry leaders. The technology takes advantage of a small difference in DNA content between male and female sperm, to ensure that the semen, once sexed, has on average over 90% female sperm in every straw. Cogent were the first company in the world to commercially offer sexed semen in 2000 within the dairy industry and since then they have continued to be the pioneers world-wide with the launch of sexed semen from top Limousin sires being the next logical step.
Sexed semen has other potential breeding selection advantages including:
Breeding replacements from your best cows and heifers, to speed up genetic progress
Biosecurity – breeding your own replacements cuts down disease risks
Selection options - female calves for first-time calvers
The export potential for this new technology appears considerable with new EU countries and accession states looking to establish a beef breeding population in the quickest and most effective ways possible. With this in mind, Raymond Crawford spent a lot of 2006 developing potential export markets for his stock, and in particular the semen from Sauvignon and Vigot. Working closely with the international team at Cogent, outlets have already been developed into Germany and Poland, with others on the way. Cogent's agents in Poland, Top Farms, have now grown a strong link with the Limousin breed in the UK, already having taken delivery of 3 shipments of around 90 heifers in total, with more planned. Following on from the heifer imports, sexed semen from Vigot is now on its way to Poland to start breeding replacements for the future.
Raymond Crawford comments: "This is an exciting new technology which offers great potential. Today's beef producers are looking for predictability and if this technology meets this demand then I'm pleased that the Limousin breed is at the forefront of another potential new market."

Limousin Cattle Society Sales Exceed £4.5 Million In 2006


Bailea Limousin Heifer Sells For 21,000gns


Limousin Heifer wins 2006 National Primestock Show