Big Farmhouse Breakfast feast success
24/01/07
The annual Big Farmhouse Yorkshire Breakfast bonanza will raise around £3,000 for charity.
Cooking up Big Farmhouse Breakfasts are Yorkshire Farm Stay UK officials, from left, Margaret Verity, West End Bunk Barn, Blubberhouses, Rosemary Hyslop, Layhead Farm Cottages, Rathmell, Lisa Preston, Pickersgill Manor Farm, Silsden, Sheila Smith, Knabbs Ash Bed & Breakfast, Felliscliffe, Yorkshire region chairperson Maggie Johnson, of Mallard Grange, Fountains Abbey, and Scaife Hall Farm host Christine Ryder.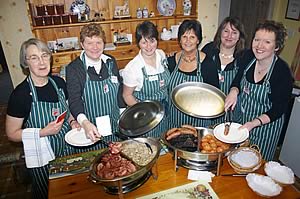 The three-day event at Chris and Christine Ryder's Scaife Hall Farm, Blubberhouses, near Harrogate, saw Yorkshire lady officers and members of Farm Stay UK cook and serve slap-up all-day breakfasts to well over 150 guests. (Tuesday to Thursday, January 23-25)

This year's benefiting national charity is "Make A Wish," which grants wishes to children and young people aged three to 17 who survive on a daily basis with life-threatening illnesses.

The event shone the spotlight both on local produce and the hearty traditional Yorkshire farmhouse breakfasts served on a daily basis by regional members of Farm Stay UK, the country's largest network of farm-based accommodation providers.

On day one, the NFU Roadshow promoted food and farming, dishing up bowls of piping hot porridge with local toppings.

Christine Ryder, a past national chairman of Farm Stay UK, thanked all Big Breakfastees for their attendance, along with sponsors, local food companies who donated breakfast fare and other businesses that gave raffle prizes.

Big Farmhouse Breakfast Fundraiser


Youngsters to enjoy Farmhouse Breakfast Week


Record Festive Fayre and Turkey Sales for Pioneer Foodservice