Youngsters to enjoy Farmhouse Breakfast Week at the Great Yorkshire Showground
19/01/07
The Yorkshire Agricultural Society has invited more than 100 youngsters to enjoy breakfast at the Great Yorkshire Showground in Harrogate, as part of its support for the national campaign, Farmhouse Breakfast Week.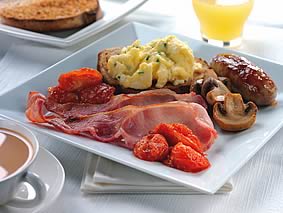 The 118 children, from Grove Road Primary School in Harrogate, will also take part in a series of workshops being held to highlight the benefits of eating a healthy breakfast and the importance of good quality regional food.

The eight to 11 year olds will take part in a mini-survey to discover their own breakfast routines and preferences, and will also have the chance to 'milk' an artificial cow as they learn how our farmers work hard to put good food on our tables.

The breakfast menu will include a choice of cereals, local milk and fruit, and either a bacon or sausage bap cooked by members of Ladies in Pigs, an organisation which promotes the quality and versatility of British pork and pork products.

The Chief Executive of Yorkshire Agricultural Society, Nigel Pulling, said: "The morning is a great opportunity for the children to literally get a flavour of the wonderful food we are producing right here in Yorkshire.

"Farmers play a pivotal role in the production of our food, and children also need to learn how important it is to eat good quality, healthy food in order to grow and develop properly. A good breakfast with nutritious local food helps improve concentration, and thus benefit their education."

The Headteacher of Grove Road, Tony Winfield, said he was delighted the school would be part of such an important initiative. "At Grove Road we make sure that we emphasise the importance of a healthy lifestyle and promote the 'five-a-day' message. Teaching the children the value of a good breakfast is vitally important – it sets them up for the day and helps them to use their thinking skills effectively. This event will reinforce that message, and we see great value in being part of it."

The youngsters will be welcomed by Hazel Baker, the Society's Education Adviser, and workshops will follow including:
Fruit & Vegetables – Elizabeth Hudson of Framework 4 Change will explain the importance of fresh fruit and vegetables in our diets and make delicious smoothies
Cereals & Crops – George Hamilton of Growing Routes, who will also carry out a mini-survey on the children's breakfast habits
Special Sausages – Grant & Mark Burton of JH & M Burton, Wilberfoss, York
Milk & Dairy – Mick Hird of Askham Bryan College


Farmhouse Breakfast Week runs from 21-27 January 2007 and is now in its eighth year.


The Yorkshire Agricultural Society is best known as the organiser of the Great Yorkshire Show and Countryside Live Food and Farming Fair; however it gives support year round to the farming industry. More than £600,000 is given annually to assist agriculture. It has an extensive education programme to raise awareness amongst children, students and teachers, of the value of using local food and recognising the part played by the region's farmers in its production. Under the leadership of Education Adviser Hazel Baker, events for children and teachers are run at the showground year round, using the site as a resource for learning.


Framework for Change - Framework for Change is the group responsible for delivering the Government's Sustainable Farming & Food Strategy in the Yorkshire & Humber region. It is a partnership between public, private and voluntary sectors focused on achieving the vision of a dynamic, entrepreneurial and sustainable farming & food industry.

Prime Minister launches CLA's Just Ask campaign


Hill Sheep Sector Concern Over Prices


National Grid Hasn't Paid Pipeline Farmers