McCormick new man supports retail dealers in Scotland
20/11/06
A good harvest with the real bonus for Scottish growers of minimal drying costs is adding to an optimistic mood among farmers and contractors that could be translated into increased sales of farm tractors this autumn.
Philip Ponton,
McCormick's new man in Scotland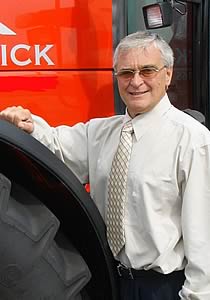 According to Philip Ponton, McCormick's new man in Scotland, an increasing flow of enquiries from retail dealer salesmen about specifications, prices and availability is the first sign that farmers are planning investments in new power units. Firm orders are being placed, too.
"There is definitely some optimism up here," he says. "Farmers had an easier harvest than is often the case, with relatively little of the cereal crop needing to be dried. Coming on top of a good season for soft fruit and decent beef prices, it's hardly surprising that we're seeing renewed retail activity."
Philip Ponton (57) is McCormick's new area sales manager for Scotland, which means he will be supporting two of the UK's largest farm machinery retail networks – James Gordon (Engineers), which covers the West for McCormick, and Sellars Agriculture in the north and eastern counties of Scotland.
"Both have a wealth of experience and run very sound dealerships, putting a firm emphasis on after-sales service, which is critical in this business," he says. "Couple that with a McCormick range that extends from compact fruit tractors to the most sophisticated heavy grassland and arable machines – in the shape of the Tractor of the Year 2006 award-winning XTX series – and you have a very attractive package."
Philip has joined McCormick after 32 years with International Harvester, Case Corporation and CNH Global. For the past six years, he was Case-IH business manager for the northern half of the UK.
"I've now lived in Scotland – at Glenfarg near Perth – for the past 17 years, so this is very much my home territory," he says. "But moving to McCormick also feels like 'coming home' because I've many years' experience of the Doncaster headquarters factory and the tractors built there."
Philip is confident that as demand in the market picks up, his dealers will see growing sales of the British-built McCormick models. They comprise the 70-100hp CX, a tough, reliable every-day tractor; the 90-150hp MC and MTX mid-range machines with four-speed powershift and load sensing hydraulics; and the 160-200hp XTX with the latest electronics technology for top engine, transmission and hydraulics performance.

McCormick's first CX Diamond Edition tractor goes to Lincolnshire


McCormick C95 Max - the line-up grows


Finding good used McCormick tractors made easier