Fullwood advise checking costs before opting for used milking parlour
10/11/06
DAIRY farmers considering installing a second hand milking parlour in a bid to save money could actually end up spending the same or more than the cost of a brand new parlour if they don't do cost comparisons fully, a leading parlour manufacturer is warning.
Weigh up the costs of a second hand versus new milking parlour carefully, advises Chris Stevens of Fullwood, otherwise second hand could cost more than you expect.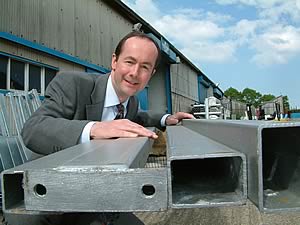 According to Chris Stevens of Fullwood, although it might be tempting for producers to consider a second hand parlour at present – given the number of farmers leaving the industry – a key problem can be the hidden costs of adapting a pre-owned parlour into a new location, which can easily stack up.

The shear act of removing an existing parlour is hard to do without damaging it, he stresses. Also, wear and tear incurred may not always be obvious in situ. But unless components are re-assembled in precisely the same way, this can cause problems. Similarly, newer equipment may not be easily compatible with older parlours. All these can result in extra adjustments or modifications being required, he points out, adding significantly to costs.

"By the time a second hand plant has been removed, transported, re-fitted and then made to work, it can work out at least as expensive as buying a new plant," Mr Stevens explains.

"Although it depends on the condition and complexity of the parlour, a typical example to take out a basic 20/20 herringbone could be £2,000-£3,000 and perhaps £10,000 to re-install it. Added to this will be the costs of transport – with the risk of damage – plus the cost of the parlour itself, which could be £15,000 for something in good condition.


"This adds up to nearly £30,000 if one includes transport, packing, and unpacking. The additional costs to put right parts damaged in removal and transport are difficult to predict and the first year's maintenance costs can be substantial." There are certainly cheaper second hand parlours available, he admits, but they tend to be old or in poor condition and may rarely be worth the investment long term, he suggests.

By comparison, Mr Stevens says a brand new parlour of a similar type might cost from around £35,000 installed, but with this usually comes warranty cover plus access to the manufacturer's back-up and technical support.

In addition, with Fullwood offering finance schemes on new parlours to make purchase easier, he says the decision to buy second hand can look expensive for what producers might actually get.

"Future upgrades can also be easier with a new parlour. Old parlours are often more expensive to update, particularly when out-of-date software is still being used," he points out.

The 24th Northern Expo Holstein Show 2006


Isle of Man dairy farmer reaches final of British Grassland Society competition


Funding Helps Finance Vet and Farmer Team Training