Good demand at Skipton Wensleydales show
03/10/06
There was good demand for sheep of all categories at the Wensleydale Longwool Sheep Breeders' Association 115th annual show and sale, held at Craven Cattle Marts' Skipton Auction Mart. (Friday, September 29)
Mark Elliott with his Skipton Wensleydale champion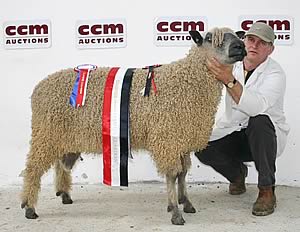 The supreme champion was a shearling ram, "Providence Lucius," bred and exhibited by JA & F Elliott from Providence Farm, Knaresborough, North Yorkshire, who have been supporting the popular fixture since 1946.

Shown by Mark Elliott, the victor, third in class at this year's Great Yorkshire Show, sold for 320 guineas.

The reserve supreme champion, again from North Yorkshire, was an ewe lamb bred and exhibited by Jack Watkinson, of Constable Burton, Leyburn, which sold for 130 guineas.
The day's highest price was the 480 guineas paid by JA & F Elliott for the reserve male champion, a smart and well developed ram lamb bred and exhibited by John McHardy, from Cupar, Fife, the Association's representative for Scotland. This was the first time that John had exhibited his sheep at any show.

Second highest price was the 310 guineas paid by for Knaresborough breeder Mrs Yvonne Mudd's best fleshed ram lamb, which was second in its class.
Average prices: Rams 136 guineas, Ram Lambs 163 guineas, Ewes 108 guineas and Ewe Lambs 89 guineas.

Regional chairman supreme at Skipton Charollais sheep fixture


Peter Woof top dog at Skipton Texel Sale


Record Texel Sale Price at Carlisle