Yorkshireman takes 2006 World Reversible Ploughing Title
06/10/06
Simon Witty, ploughing for England, has become the 2006 World Reversible Ploughing Champion.
Simon Witty, ploughing for England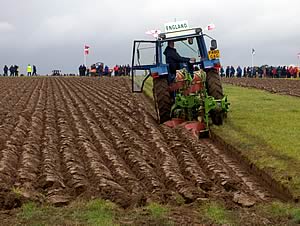 Thirty-year old Simon, from East Lutton, near Malton, North Yorkshire won the title for the third year in a row. He previously took the title in 2004 in Northern Ireland and last year in the Czech Republic.
Fifty four competitors from twenty-seven countries competed for the world titles, at the 53rd World Ploughing Contest which was held at Tullow, Co Carlow in the Republic of Ireland . The Contest was spread over two days – September 29th and 30th.
The wet summer meant that ploughing conditions were good, despite heavy rain before the event. However, persistent rain on the second day of the event meant conditions were tough for the ploughmen. The stubble plots on the first day were variable but Simon, using a Ford tractor and Dowdeswell plough, worked hard and just managed to beat France's Fabien Landre by just 2 points. The grassland plots were even more variable, and although Fabien Landre managed to win on the second day, with just half a point lead, it wasn't enough to take the overall title.
Simon was a comfortable winner on both days, winning the Championship with a total of 383 points. Second place went to Fabien Landre with 381.5 points and in third place was Thomas Cochrane from Northern Ireland with 371.5 points.
In the World Conventional Ploughing Championship, England's John Hill, worked hard to finish in third place. However, he didn't draw one of the better plots on the grassland ploughing and finished sixth, using a Case tractor and Kverneland plough. This was John's sixth attempt at the conventional title, although he has previously won the reversible title three times. Unfortunately, experience was not enough to enable him to catch the leaders and he had to settle for 4th place overall.
The Conventional Ploughing Championship was won by Scotland's Andrew Mitchell jnr, with an overall score of 369 points. Andrew, from Forfar, was ploughing for the first time in a world event and has followed in his father's footsteps, Andrew Mitchell, who won the Reversible title in 1997. Eighteen year old Andrew beat former world champion, Peter Lanz from Austria, into second place with 362 points. Eamon Tracey from the Republic of Ireland was placed fourth with 354.4 points.
Commenting upon the results, Ken Chappell, Executive Director of the Society of Ploughmen said: "This is a remarkable result for Simon Witty. It's only the third time he has ploughed in the World Contest and he has won it every time!"
Both England ploughmen are now polishing their ploughs in preparation for the British National Ploughing Championships which will be held at Loseley Park, near Guildford, Surrey on October 14th & 15th.

McCormick C95 Max - the line-up grows


Crowds flock to spectacular British National Ploughing Championships


Britain's Top Ploughmen Going For Gold In Warm Up


Great Day Out Along the Furrows