19/10/06

Hardy, docile Beef Shorthorn cattle are part of the beautiful Perthshire landscape grazing at up to 1,500ft on the heather hill above Glenisla House.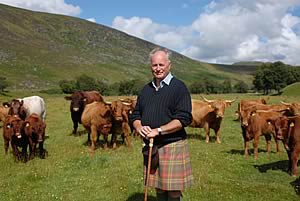 John Gibb with Highland cows and crossbred calves and stock bull Glenisla Vagabond.


The traditional breed has been run on the Blairgowrie hill farm since the 1970s and for the last 15 years Major John Gibb has been breeding the cattle pure for his Glenisla herd, calving 60 females each spring.
Major Gibb and his wife Anne run the easily-managed cattle with daughter Catriona and the farm's stockman of 30 years Arthur Lawrence alongside a flock of 650 Scotch Blackface breeding ewes, some of which are bred pure for replacements, with the remainder crossed with the Border Leicester and the Texel.
The farm's 3,000 acres run from the valley bottom of the River Isla at 1,000ft above sea level – where there are only 200 acres – to the higher hill ground and improved land at up to 1,500ft which is also home to a herd of wild red deer.
Glenisla House has been in the family since 1918 and Major Gibb, the third generation, took over in 1966.
He believes the Beef Shorthorn is ideally suited to the farm which was organic for five years until two seasons ago after the Gibbs' son Alastair decided to make a new life in New Zealand. However, it is still run along organic lines – with the exception of the occasional use of sprays for dockens – as grass yields were found to be just as good as under the conventional system.
The decision was made partly because of the farm's short summer season and that organic livestock was not commanding the premium it had done previously and partly because of the increased paperwork required for organic status.
Keen to promote the breed, some time ago Major Gibb was behind the establishment of the October sale of pedigree Beef Shorthorn heifers at Perth which now regularly attracts an entry of around 70.
He enters up to 20 mostly in-calf heifers aged 18 to 19 months old, including in the draft animals with good beef values.
"The Beef Shorthorn cow is as good as any other cow in the world, if not better," says Major Gibb, and the popularity of the heifers sold at Perth is further endorsement of this. The sale attracts newcomers to the breed as well as commercial buyers.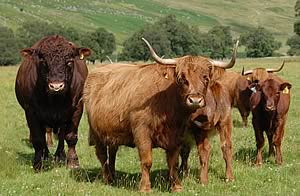 Glenisla Vagabond with the Highland cows and crossbred calves


As well as the pure bred herd, he also runs a dozen Highland cows which are successfully crossed with the Beef Shorthorn and the heifer calves sold at a year old, also through the market, are in big demand as suckler cow replacements.
"I think there is a real place for the Shorthorn. A lot of commercial beef producers have no idea what the Shorthorn is capable of achieving. We don't get the shape and muscle of a Limousin, but as far as the weight of a weaned calf is concerned, its growth and docility, I don't think we can get much better."
This year 11 bull calves have been kept entire and the best are expected to weigh up to 400 kg at weaning at around 210 days with the average at 340kg. Heifer calves will have gained an average of 1.05kg to 1.1kg a day.
The Glenisla herd was one of the first to be performance recorded, the importance of which Major Gibb recognised during two stints as president of the Shorthorn World Conference, staged every three years when he saw that the breed was recorded around the world. The herd was initially recorded with Signet and with Breed Plan, the latter of which it continues to be.
The herd begins calving in early March. Glenisla House has a short growing season and it suits the Gibbs to sell stock off the farm at a particular time, whether beef cattle or lambs, even though prices are not always at their peak.
Early spring calving helps prevent the need to house cattle for a second winter on straw which is proving expensive for bedding because of the local demand for it to store carrots as well as haulage costs.
Heifers are calved at two years old and, as they are still growing, special attention is paid to them in the first month to six weeks post calving including feeding a small supplement of oats to prevent them becoming too thin. This helps them get back in calf easily.
The older cows are only fed minerals after calving and no creep is fed to the calves.
The cows and calves are moved onto the improved pastures in early May until the end of October when the castrated male calves and heifer calves are weaned and returned to the hill after housing for several nights.
Depending on the weather, the cattle are outwintered for as long as possible, with housing usually in February just prior to calving. They are fed grass silage, with no concentrate, and a seaweed mineral which gives enough iodine to help prevent retained cleansings.
Homeopathic treatments are also used to a limited extent. At weaning at the end of October, calves are dosed with a homeopathic treatment against pneumonia.
The in-calf females are divided into four groups for calving after being pregnancy diagnosed in September so that a check can be kept.
Stock bulls include Fearn Wyvis, now in his second season with the herd at three and a half years old, which was bought at Perth from Ross-shire breeders James and John Scott with great emphasis being placed by Major Gibb on his high beef value.
For sale at the United Auctions sale at Perth on October 23 is the home-bred two year old bull Glenisla Exuberant which has been running with the 18 heifers which will also be for sale.
Running with the Highland cattle during the summer months after serving some of the pure bred Shorthorn cows is the home-bred bull Glenisla Vagabond. The three and a half year old bull is by the Australian AI sire Belmore Fuel Injected.
Bulls are selected for their ability to produce good females, keeping Maine Anjou influence fairly low.
As well as running a small AI programme to speed up herd genetic development, Major Gibb has tried to build up a naturally polled herd of cattle.
Through the use of naturally-polled bulls, around 85 per cent of the cows are now without horns. Major Gibb sees it as an important welfare issue for calves which, when dehorned in the summer, can suffer attack from flies and also eases the workload.
Again, he has adopted this policy from his knowledge of the breed elsewhere in the world where the majority of Beef Shorthorns – as well as other breeds – are naturally polled. However in selecting cattle without horns, Major Gibb is keen not to have animals which are either too light boned or too heavy boned, the latter potentially leading to calving difficulties.
Up to 30 finished cattle are sold mainly in September with some kept through to November. They are fed a small supplement from mid-August before selling to Scotbeef, at Bridge of Allan, Stirling, for a 5p per kg premium. Major Gibb is looking for a carcase weight of 300kg at R4L which most achieve.
"At the time I went into the Beef Shorthorn, breed numbers had declined severely. If I had gone into a continental breed then I would have been chasing the leaders and I thought I could contribute something to modernise the Beef Shorthorn breed.
"They are attractive cattle with the benefit of docility, hardiness, ease of management and calving as well as the commercial attributes of good growth and tasty meat with some marbling."
© Copyright 2006 Jennifer MacKenzie All Rights Reserved.

Newhill Texel Flock's Major Star


Beef Shorthorn Joins Blelack Line-Up


Cumberland Dairy Quest for Added Value