National Win for Aberglasney Gardens
11/10/06
Aberglasney Gardens, Llandeilo, has won the national award for the Best Garden Design/Construction Project, despite stiff competition from some of the brightest and best in the land. The Ninfarium, created in 2005 within the ruinous central rooms and courtyard of the Carmarthenshire mansion, was announced the winner at the National Awards Ceremony organised by Horticulture Week and held at the Hurlingham Club in London.
The Ninfarium at Aberglasney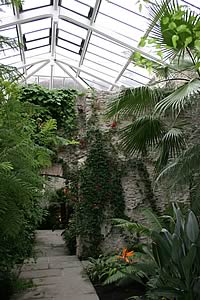 The judges commented, "The attention to detail in this unique project is impressive". The awards ceremony was hosted by TV and radio presenter Jeremy Vine with the voice overs by Alan Dedicoat of National Lottery fame.

Aberglasney Director, Graham Rankin, who is responsible for the creation of the Ninfarium was thrilled by the success. He says it will help to create awareness of the venue and put it on the map as one of the places in the UK that garden lovers 'must visit'.

"It's the only nationwide award for the horticulture industry", he said. "And so we are absolutely thrilled to win".

"We were competing against the Big Boys of the industry. The runner up was an international award winning design company, other finalists included a City Council and a multi-million pound business.

"And it was lovely to meet Jeremy Vine at what was a very prestigious awards ceremony in one of London's fine old clubs. He was really nice and a great host and although he admits he's not a gardening expert, he was pretty aware of what's going on".
The Horticulture Week Awards is the leading annual event that recognises the very best in achievement, ability and performance across the entire ornamental horticultural industry.
Now in their second year, the awards are organised by the industry's leading trade and professional magazine, Horticulture Week, and the Horticultural Trades Association, sponsors include the Royal Horticultural Society and The Land Restoration Trust.

The Ninfarium at Aberglasney is the brainchild of Director, Graham Rankin. He had the ruin covered with a huge glass atrium. It now contains a wonderful collection of warm temperate and sub-tropical plants including Orchids, Palms, Magnolias and Cycads.
The name Ninfarium was derived from the amazing gardens at Ninfa, which are situated south of Rome. The garden at Ninfa has been imaginatively planted within the ruins of a medieval village.

Protein Provider Without Need For Nitrogen Fertiliser


National Primestock Show 2006


A "Sell Out" for Livestock at Countryside Live