10/10/06
Superb livestock from across the country is promised for the 2006 Countryside Live Food and Farming Fair as organisers announce that both the cattle and sheep sections are a "sell out" and a waiting list is in operation.
The 2005 Countryside Live Supreme Beef Champion shown by Philip Price seen here with Lady Halifax, Patron, who presented the trophy.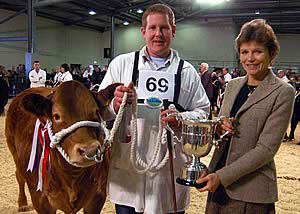 With a total of £5,680 in prize money on offer, the event has attracted 167 cattle entries and 228 sheep, with 582 pigeon entries and 909 entries across the poultry classes. The event is run by the Yorkshire Agricultural Society, best known as the organiser of the Great Yorkshire Show.

Countryside Live takes place at the Great Yorkshire Showground on Saturday 28 and Sunday 29 October and for the first time includes classes for young handlers showing their stock in the sheep and cattle sections.

"It is vital that we encourage and support young people who are interested in showing their animals," said Bill Cowling, Honorary Show Director of the event. "These are the farmers of tomorrow and not only being able to recognise a top quality animal, but present it properly to the judges is an important skill. The young handler classes have proved successful at the Great Yorkshire Show, and all the signs are that this will be mirrored at Countryside Live. We are looking forward to an excellent two days."

The winners of both the Supreme Beef and the Supreme Sheep Championships, Philip Price of Hay on Wye and Robin Slade of Leominster respectively, are returning to defend their titles. Judging of the cattle and sheep begins at 9am on the Saturday, with the Supreme Championships judged on Sunday afternoon.

The link between farming and the food on our tables will be emphasised through the popular National Festival of Meat organised by the Royal Smithfield Club. Farmers and butchers from around the region will be bringing entries for the Saddles of Lamb and Ribs of Beef sections with judges Brian Glaves and Charles Hill having the difficult task of choosing the winners. The winning beef entry will then be cooked in front of the Yorkshire Life Cookery Theatre audience.

Cookery Stars Showcase Regional Food


Countryside Live Food & Farming Fair 2006


Great Yorkshire Show 2006 - Another Successful Year!