10/10/06
Impressive culinary skills, innovative combinations of flavours and a passion for using regional food were the hallmarks of the winners of the Great Yorkshire Cookery Competition 2006 which have just been announced.
2006 Junior Chef Julia Seager
& 2006 Professional Chef Lionel Strub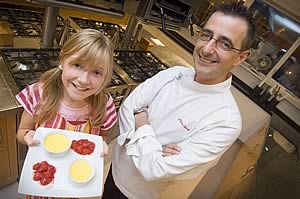 The event, now in its third year, is organised by the Yorkshire Agricultural Society in association with Yorkshire Life Magazine and Harvey Nichols.

Nigel Pulling, Chief Executive of the Yorkshire Agricultural Society, said the contest emphasised the high quality and variety of food being produced by the region's farmers.

"We have some of the finest 'raw materials' you can find anywhere, and the superb dishes created by our winners show them off to their best advantage. The Society recognises the importance of making sure everyone realises the quality of food on their doorstep, and the Great Yorkshire Cookery Competition helps raise awareness that good quality local ingredients make good quality tasty nutritious meals."

Entrants had to submit an original recipe for a starter, main course or dessert, using Yorkshire produce as far as possible and costing less than £10 to make. A cook-off was held at Harvey Nichols in Leeds for the Amateur and Professional Chef of the Year categories, while contenders for Young Cook of the Year battled it out at the Bettys Cookery School in Harrogate.

The winners were:
Professional Chef of the Year
Lionel Strub of the Fig & Fennel Restaurant, Wetherby, West Yorkshire
Amateur Chef of the Year
Janine Lishman-Peat of Thurlstone, Sheffield, South Yorkshire
Young Cook of the Year
Julia Seager, aged 11, of Bishopthorpe, York, North Yorkshire
The difficult task of choosing the winners was undertaken by Elaine Lemm, Food and Wine Editor, Yorkshire Life, Richard Allen, Head Chef, Harvey Nichols, Leeds, David Parker, Head Chef of Bettys Café Tea Rooms and Fiona Movley, of the Yorkshire Agricultural Society.

The three winners will each receive a glass trophy and framed certificate, along with a £250 cash prize and will create their dishes in public when they take centre stage at the Countryside Live Food and Farming Fair in the event's cookery theatre. Organised by the Yorkshire Agricultural Society, Countryside Live is a showcase for the farming industry where the importance of using regional food is top of the menu. It takes place on Saturday 28 and Sunday 29 October at the Great Yorkshire Showground, Harrogate.

Commenting on the high standard of the competition's entries, Ms Lemm said: "Each of the winners deserves the title of 'Great Yorkshire Chef' because of their innovative use of Yorkshire ingredients coupled with their impressive skills at the stove. The food looked good, tasted good and all were dishes of which Yorkshire could be proud."

Mr Strub, owner and Head Chef of the Fig & Fennel Restaurant, said he was delighted to win the professional category and would be donating his cheque to the Candlelighters charity. The dish which won over the judges was: Tiam of Mrs Bell Olde York Cheese and Rhubarb wrapped with Oak-Smoked Venison, Ampleforth Abbey Crab Apple & Cider Jelly, and Organic Walnut Toast.

"In our restaurant we use Yorkshire produce as far as possible, and I wanted to prove just how fantastic our local food is," he said. "My recipe features on our menu and it's a delight when people taste the food and realise how great our local produce and meat tastes. We want to show that you don't need to bring in food from far away – it's just as good close to home."

Amateur category winner Mrs Lishman-Peat is a former Masterchef finalist and winner of the Best Roast Dinner in England competition. "I cooked my dish – Roast Pork Loin with a Sweet and Spicy Stuffing – the Saturday before the finals, and it's as well I did as everything that could go wrong did!" she said. "But on the night it went perfectly. I already occasionally cook for dinner parties in people's homes and give cookery demonstrations, and now I've got the chance to expand on that in the future."

In the Young Chef category, Julia prepared Lemon and Wensleydale Pots with Caramelised Strawberries as her award-winning dish. "I cook for my family maybe once a week or so but I don't just follow recipes – I like to work out how flavours and ingredients will go together," said Julia, who attends Tadcaster Grammar School.

"I also enjoy looking round farmers' markets to see what we can buy to cook with at home. Food is a bit of a family passion – my mum loves cooking, my auntie and granny are really good cooks and even my nine-year-old brother enjoys baking and makes muffins for our lunchboxes at school!" Julia is no stranger to success as earlier this year she was one of the finalists in the BBC Good Food Cookery Competition.

The three are now preparing for their appearances at Countryside Live. The 'little sister' of the Great Yorkshire Show will also feature stunning motorcycle displays, a new fruit, vegetable and flower show, honey show, trade stands, a children's activity zone and livestock classes.
Tickets bought in advance cost £6 for adults, £5 for concessions – telephone the Hotline on 01423 541222 from 9am-5pm, Monday to Friday. Admission on the gate costs £8 for adults, £7 for concessions. Children up to the age of 18 are admitted free of charge.

Countryside Live Food & Farming Fair 2006


Great Yorkshire Show 2006 - Another Successful Year!


Alltech to Sponsor 2010 FEI Games in Kentucky