Carlisle to host the biggest sale of Lleyn Sheep in the UK
13/09/06
The Lleyn Sheep breed has had a phenomenal growth over the last few years, with Carlisle's Borderway Mart to host the largest ever sale of Lleyn Sheep in the country.
Lleyn Gimmers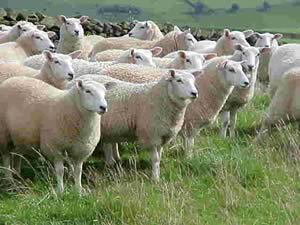 The Lleyn which originates from North Wales is now found from the South coast of England to the Orkneys. The breed which celebrated its 35th anniversary this year is of medium size, has good mother ability and prolific, has taken many sheep breeders eyes.

David Knowles, Secretary of the Scottish & Borders Lleyn Breeders Club commented: "With the Lleyn you have the ability to breed a pure, pedigree flock with a high health status, without the need to buy in replacements or you can produce some outstanding prime lambs if the Lleyn is crosses with a terminal sire."

Heather Pritchard, from auctioneers Harrison & Hetherington Ltd., added: 'We are delighted to be hosting the largest UK sale of Lleyn sheep. The numbers reflect the ever growing strength of the breed in the north of the country, becoming more popular to breeders and enthusiasts. The larger numbers forward for the sale will more easily allow buyers to fulfill their requirements.'

The Sale takes place on Thursday 21st September at 9.30am. The pre sale show is at 6pm on the night before. For a catalogue, please visit: www.livestock-sales.co.uk

Pedigree Lleyn Sales are held throughout the country in September, the Northern Sales are 16th Castle Douglas, 21st Carlisle & 28th Skipton.

Good Trade For Quality Beltex Sheep at Carlisle


Bluetongue virus in the Netherlands identified as serotype 8 by IAH


Liddles lead the way at Masham