Sheep Scab Eradication - Producers Must Act Now!
05/09/06
The National Sheep Association (NSA) is writing to every sheep producer in the UK this week (w/e 8th September 2006) highlighting how individual farmers can help with the declared industry initiative to rid the national flock of scab.
Dipping with an OP is the gold standard scab control system.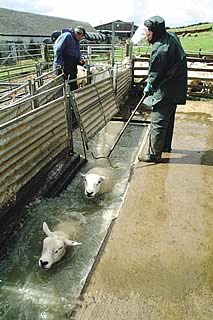 "It is only by working together – through a co-ordinated and determined effort – that we will achieve our aim," comments NSA chief executive Peter Morris. "Scab is so easily spread from flock-to-flock that it is vital every sheep producer takes responsibility for their own animals as soon as possible, and is able to deal promptly with any problems should they arise. This is why we're giving producers as much information as we can at this early stage."

Every UK sheep producer is receiving a factsheet on scab showing how to recognise the disease. Sponsored by Coopers Ectoforce, the information leaflet also provides details on the available scab control products and the optimum, gold standard system for broad-spectrum sheep ectoparasite control – dipping with an OP.

"We're urging every producer to undertake a flock risk assessment this autumn, seek veterinary advice where appropriate and then discuss plans with their neighbours to maximise the benefits of collective actions. Farmers must act now," Peter Morris says.

The sheep industry declared an all-out offensive on scab at Sheep 2006 on August 2nd. The NSA is leading the initiative with widespread support from the English, Welsh and Scottish Farming Unions, sheep producers and industry stakeholders.

Record Texel Sale Price at Carlisle


Good Trade For Quality Beltex Sheep at Carlisle


Bluetongue virus in the Netherlands identified as serotype 8 by IAH