15/09/06

The Royal Smithfield Club has announced that for the sixth year it is jointly funding three Nuffield Food Chain Scholarships.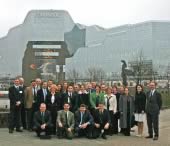 Each is in partnership with one of the three National agricultural societies - for a Welsh scholar with the Royal Welsh Agricultural Society, for a Scottish scholar with the Royal Highland and Agricultural Society of Scotland and for an English scholar with the Royal Agricultural Society of England.

For 2007 the selected scholars will be in a total party of twenty Nuffield Scholars first attending a one week Global conference focussing on International Agricultural Leadership, in Calgary next February.

Each scholar will then have twelve months to undertake their own study tour to look at their particular project. They then have six months to submit their report which will be presented at the 2008 Nuffield Conference. Over the eighteen months the time needed is around eight/ten weeks of travel and report writing.

Past Smithfield Scholars have made their impact. Donald MacPherson, a beef farmer from just outside Berwick, was a guest speaker at the 2005 Oxford Farming Conference, and David Ismail from Scotland has had a half page article in the National press on Brazilian Beef Farming.

To learn more about the scholarships contact any of the three Societies, call the Royal Smithfield Club on 01225 837904 or visit the Nuffield website: www.nuffieldscholar.org for your chance to really help the British livestock and meat sector.

Royal Smithfield Club National Festival Of Meat Competitions


Countryside Live Food & Farming Fair 2006


The 24th Northern Expo Holstein Show