06/09/06
Winksley Cum Grantley Young Farmers Club has handed over a cheque for £2,405 to Breakthrough Breast Cancer, a charity committed to fighting breast cancer.
Pictured at the Winksley Cum Grantley YFC cheque presentation evening are, back row from left - Brian Smith, of Black Sheep Brewery, Rebecca Bowes, Alan and Gillian Bowes, owners of Ripon Agricultural Supplies, and Black Sheep's Paul Theakston.
Front row - Ryan Atkinson, club chairman, Richard Stockil, vice-chairman, and Matthew Nelson, secretary.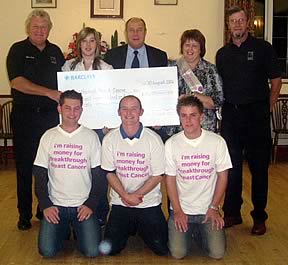 The money was netted at a charity event at Wetherby Racecourse earlier this year when Young Farmers Clubs raced against each other in fancy dress!

Winksley Cum Grantley YFC held a presentation evening at Grantley Village Hall (Wed, Aug 30) to thank all supporters, in particular the three main sponsors – Black Sheep Brewery, the HACS building and contracting group, and Ripon Agricultural Services.

Club chairman Ryan Atkinson said: "It was a very successful evening and we would like to thank not only our main sponsors, but also everyone else who helped with our fund-raising efforts, by far the most successful in the past 20 years as far as the club is concerned."

Countryside Live Food & Farming Fair 2006


Great Yorkshire Show 2006 - Another Successful Year!


Alltech to Sponsor 2010 FEI Games in Kentucky