Cheshire Dairy Farm Wins NMR / RABDF Gold Cup 2006
21/09/06
The Cheshire-based Hatton Heath herd, owned by Grosvenor Farms and run by managing director Mark Roach, has won the UK dairy industry's most prestigious award – the NMR/RABDF Gold Cup.
Hatton Heath herd's Mark Roach, Rhys Evans herdsman, Mark Farrall herd manager.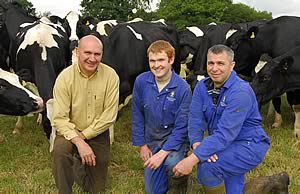 A close runner-up and inaugural recipient of the NMR Silver Salver is William Ley from Devon.

Both dairy herds have been finalists in the Gold Cup competition in the past three years. This year they have risen to the top of eight national finalists to take first and second place. The awards were presented at the Dairy Event, today (September 20).

"Both dairy businesses met the philosophy of the competition," said Lyndon Edwards, chairman of the Gold Cup judges. "The Gold Cup looks at all-round performance, spotlighting farm management, environment policies and future planning strategies, as well as investigating the production, health and welfare status of the herd."

The Hatton Heath herd, based at Alford near Chester, has earned its winning place by making considerable progress during the past few years. Mark Roach, along with herd manager Mark Farrall and herdsman Rhys Evans, runs the 301-cow Holstein herd.

Previously a nucleus herd used for testing bull mothers for Cogent, Hatton Heath is now managed on a totally commercial basis. "And this has allowed us to concentrate solely on milk production and is the reason we've been able to push yields up by around 1,000kg during the past year to the 11,000kg mark," explains Mark.

The herd's average yield for the year ending September 2005 stood at 10,804kg of milk at 3.62% butterfat and 3.25% protein, but by June 2006 this had risen to 11,089kg of milk at 3.67% butterfat and 3.26% protein, with a SCC of 134,000 cells/ml.

Milk is currently sold to Wisemans, a decision made four years ago that Mark says has paid off. "I think we made the best move. We produce milk all year round and our flat production profile is better suited to a liquid processor. Also, we're ideally located for supplying Liverpool and Manchester," he says.

During the next five years expansion could also be on the cards, but Mark is waiting for the right time. "The dairy business has to become more profitable before we progress down this route," he says. "For now we will push the existing capital we have as hard as possible and wait. We'll manage costs as tightly as possible and push yields."

The dairy business has invested a lot of time and effort in conservation and managing the farm environment. It has joined the Entry Level Scheme and the Countryside Stewardship Scheme.

Runner-up
William Ley's 380-acre farm, based at Sutcombe near Holsworthy in Devon, is a family enterprise. His wife, Marion, and sons, Gerald and Roland, each play a key role in the business – the core of which is the renowned herd of Thuborough Holsteins.

The 180-cow herd now averages 10,945kg of milk at 3.98% fat and 3.30% protein on twice a day milking. Cell counts average 130,000/ml and the herd has 20 cows that are classified Excellent.
Sons Gerald and Roland have diversified but kept the dairy herd as the backbone of their enterprises. A bull-hire scheme run by Gerald capitalises on the reputation of the herd and brings useful supplementary income. Although never advertised, around 20 bulls are out on hire at any one time, while those not used in the scheme – all pure Holstein – are finished for bull beef.

Meanwhile, Roland was a driving force behind the establishment of a scheme to share machinery, now used on every cattle farm in the village of Sutcombe.

Back at base, William has explored the use of alternative products on the farm, most notably 'Digestate', a by-product of electricity generation, as an alternative to inorganic fertiliser. Produced off-farm from his own herd's (and others') slurry combined with traceable feed waste, the digested product is stored in a massive six-million-litre tank on the farm and applied just below the crop to the soil.

"Our fields have become a mass of clover," says William, "and we think the soil condition is much improved." Wiping out a £20,000 fertiliser bill is a further worthwhile benefit.

A philosophy of avoiding waste and making the very best of their resources is followed by the Leys. "Ours is a very integrated system and we want the whole farm to pay," adds William.

All eight finalists in the Gold Cup 2006 were all presented with certificates. As well as Mark Roach and William Ley, finalists included Stephen and Catherine Temple from Norfolk, Ian and Sally Macalpine from Lancashire, James Alston from Norfolk, Peter Jack from Dorset, Chris May from Wiltshire, and Grenville and Libby Wilson from Worcestershire.

Ian and Sally Macalpine won the Lilyhill Cup for the second year running, awarded to the highest placed Jersey herd in the Gold Cup competition.
---
* The NMR/RABDF Gold Cup is open to all milk recorded herds meeting the competition criteria of more than 50 cows, a rolling average cell count of less than 200,000/ml and a genetic merit above the level set for the breed.

Finalists in the NMR/RABDF Gold Cup 2006 were judged by a panel including: Lyndon Edwards, RABDF and chairman of judges; Philip Kirkham, NMR Chairman and West Midlands dairy farmer; Richard Knight, independent environmental consultant; Tim Dobson, dairy farmer and RABDF council member; and Frank Armitage, Gold Cup coordinator.

Eight Top Dairy Herds Go For Gold


NMR/RABDF Gold Cup Turnout Up


NMR/RABDF Gold Cup Qualifiers In North East And Yorkshire


Gloucester Dairy Farmer Takes Top Industry Trophy