Gloucester Dairy Farmer Takes Top Industry Trophy
23/09/05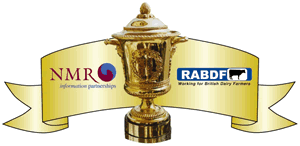 This year's winner of the NMR/RABDF Gold Cup, awarded for all round dairy herd performance and business management, is John Round from Elmore, near Gloucester. Presented at the Dairy Event, Stoneleigh, Mr Round reached the final six in 2004 and has made significant improvements to move into top place this year.
Mr Round manages his 270-cow Holstein herd and youngstock on 135-hectares of low lying land, near the River Severn, with the assistance of full-time herdsmen Geoff Bates and Martin Kendall, and farm labourer Mark Reynolds.
Philip Kirkham, NMR Chairman, John Round with Gold Cup, John Beckett, RABDF President.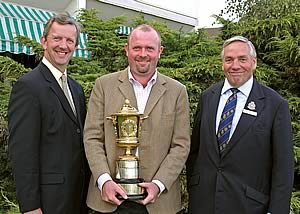 The homebred herd averaged 11,730kg of milk at 3.80% butterfat and 3.18% protein in 2004 - up by 1,000kg compared to 2003's figures and pushing total milk sales up towards the three-million-litre mark. Calving pattern is spread in order to provide the business's milk buyer Dairy Crest with a level supply.
Cows are housed all year round and fed a TMR - a system that has evolved to accommodate limited grazing and avoid cows having to cross roads or walk down long tracks.
A dairy enthusiast, John Round is very hands on and formulates the herd's rations and breeding plans. But he also keeps a close eye on the margins and overall business performance, as well as benchmarking his herd against the top 25% in the UK for cost per litre. Although reluctant to rely on the new single farm payments, he already follows a number of protocols and is joining the Entry Level Stewardship scheme.
Chairman of the Gold Cup judges Andrew Chadwick commented on the strong team spirit shown on John Round's farm. "All the staff at Elmore Back Farm work towards well-defined goals," he said.
"John appreciates the need to make a profit in order to grow the business and the team know that to do this they need to manage the cows to achieve their full potential.
"What is especially impressive is the depth of thought and planning that had gone in to all aspects of the dairy business - breeding, feeding, conservation and staff management. John has made a conscious decision to continue to increase milk yields, but without large capital outlay, and also to address the all-important balance between work and time off for all his team."
Presenting the Gold Cup were John Beckett, President of RABDF, and Philip Kirkham, Chairman of NMR.
As part of the Gold Cup presentation, the Jersey Cattle Society announced the winner of the Lily Hill Trophy. Presented annually to the best Jersey herd in the Gold Cup competition, this year's winner is Ian Macalpine from Waddington, Clitheroe, Lancashire. Mr Macalpine runs the 195-cow pedigree Ribblesdale Jersey herd.
The full line up of finalists in the NMR/RABDF Gold Cup 2005 is: