03/08/06

The introduction of a vaccination programme has virtually eliminated footrot, cutting down on family labour time as well as improving sheep health and welfare, say Cumbrian sheep producers the Hewitsons.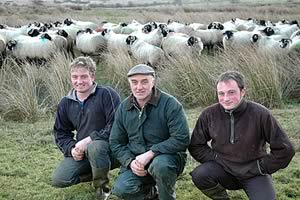 Left to right, Martin, Benson and Philip Hewitson with their Swaledale ewes on Low Moor.


Benson and Alison Hewitson's sons Martin and Philip now both work in the farming business at Shatton Lodge, Lorton, near Cockermouth, where the family has farmed since 1940.
The farming enterprise is centred on a suckler beef herd and hill sheep, as well as Martin and Philip continuing the family contract sheep shearing business set up three decades ago. Their sister Diana maintains her interest in livestock as a vet in Durham.
In 2000, in order to expand, the Hewitsons bought a block of 110 acres of land at Low Moor near Bothel, eight miles away from Shatton Lodge. Farmed together with neighbouring unit High Stanger, the operation now runs a flock of Swaledale ewes for North of England Mule production.
The unimproved land, which runs at 552 ft above sea level, is predominantly rushes and wet soft grazing. As a result, the Hewitsons quickly found that the Swaledale ewes and their Mule lambs were prone to serious footrot problems.
Footrot is one of the most important health and welfare issues facing UK sheep producers, with the disease causing visible pain, reducing performance and costing the industry millions of pounds in labour, treatments and premature culling.
"We found that every time we went to look at the sheep there would be between 20 and 30 with foot trouble," says Benson Hewitson.
"Work that we had planned to take an hour and a half would then take us the majority of the day, because we were trimming and spraying the sheep's feet. It was becoming ridiculous and we couldn't control it.
"We also used footbathing and antibiotic injections to try and clear up the footrot. We had heard about the Footvax footrot vaccine too and first tried vaccinating the ewes in the autumn of 2001.
"We couldn't believe how well it cleared up the problem. Now we only get one or two odd cases – but there are no really bad ones."
According to the vaccine manufacturers Schering-Plough Animal Health, footrot must be controlled on a whole flock basis with annual vaccination a central part of the programme for all sheep that face a footrot challenge. Additional booster doses should be used to treat infected animals.
"Vaccination with Footvax provides effective treatment for infected sheep, as well as long-term protection," says Schering-Plough veterinary adviser Paul Williams. "A single injection of the vaccine can be used to treat footrot because antibodies are produced against D.nodosus. Sheep do not produce a natural antibody response to D.nodosus, which means they will never develop a natural immunity to footrot so will remain susceptible year after year. This is why vaccination is so important.
"An initial 1ml injection will stimulate adequate antibody response to treat existing infections and prevent new ones for up to five months. But it is advisable to vaccinate again four to six weeks later for improved cure rates and longer on-going protection. Thereafter, an annual booster should be sufficient to keep footrot at a manageable level."
Benson Hewitson learned many years ago that prevention is better than cure when it comes to disease management. His flock was severely hit with abortion and he was one of the early users of a vaccine to prevent the problem – a practice the family continues to this day.
Traditionally, draft Swaledale ewes are bought-in to breed Mule lambs. However, during 2001 and the foot and mouth epidemic, in order to become more self-sufficient the Hewitsons bred their own flock replacements and three quarters of the 180 Swaledales on Low Moor are currently home-bred.
The ewes are set-stocked on the land and they only leave it for two months in the year – at tupping time and for lambing in April when they return to Shatton Lodge.
Despite not vaccinating the Mule lambs they remain free of the footrot during the time spent with their mothers on Low Moor until weaning in August or September when they are brought in as replacements for the 550 Mule ewe flock at Shatton Lodge.
At the 290 acre Shatton Lodge a further 200 older Swaledale ewes are also bred to the Bluefaced Leicester for Mule replacements and the Hewitsons are considering using the vaccine on these sheep, although the problems are far less severe than at Low Moor.
"The welfare of the sheep is very important and because they are free from lameness they are in a much better body condition. As a result they thrive better, even on this poorer land," said Martin Hewitson.
"In the past, when their body condition dropped through lameness it could take up to six weeks for them to re-gain that condition after we had cured the footrot.
"It costs us no more to vaccinate all the ewes as a prevention, than it did to try to cure the lameness with foot trimming, spraying and in severe cases antibiotic injection. And it's far less time-consuming," he added.
The Swaledale ewes at Low Moor average a lambing percentage of 160% plus, receiving a supplementary feed of hay in February and March and high energy licks in the autumn.
The Swaledales on the better land at Lorton average around 180% lambing.
"Despite the lambs lying next to their mothers they do not get footrot whereas in the past, because it highly infectious and easily transmitted from sheep to sheep, they did. Not only would we have to attend to their mothers, but often see up to 50 lambs at a time," said Benson Hewitson.
Mule lambs are weaned in late summer because all ewe lambs are retained for the commercial flock for crossing with Texel and Suffolk rams.
They are sold on as two shear ewes through Penrith and District Farmers' Mart. The finished lambs and finished cattle from the farm's 50-cow Limousin cross suckler herd are all sold at Mitchell's Auction Company, Cockermouth.
© Copyright 2006 Jennifer MacKenzie All Rights Reserved.

Beltex Terminal Sire for Profitability


Lakes Free Range Egg Company


Multi-Storey Milking for Michael