25/07/06

A farm on the edge of the Lake District which diversified into free range eggs 19 years ago now has the largest specialist egg packaging business in the country, supplying major supermarkets and McDonalds.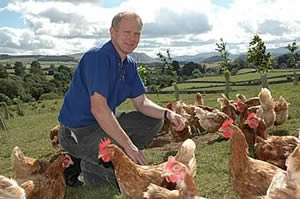 David Brass and his free range chickens


In 1988, ex-RAF pilot David Brass thought prospects for the family's traditional beef and sheep farm Meg Bank, Stainton, near Penrith, were limited, even when inputs were monitored closely and careful consideration was given to targeting seasonal markets.
He and his wife Helen started their free range egg production business - both prizing animal welfare and looking at the business opportunities - building up from 200 to 9,000 birds over a five year period.
Now, with agriculture embracing welfare friendly practices, demand for free-range eggs has grown from 11 per cent of the market to today's share of around 40 per cent.
The business achieved national recognition when it scooped one of nine awards at the NFU endorsed National Farming Awards with the couple being presented with the best business in the food chain award.
Ten years after the start of egg production the beef herd and sheep flock were sold in what was an easy decision to concentrate on the increasing bird flock. Now the farm's 100 acres are rented out.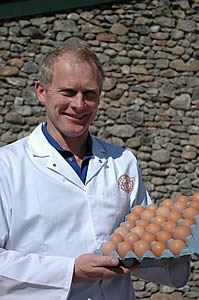 "Without a doubt free range egg production is profitable"
Initially the Lakes Free Range Egg Company supplied local shops, then a local packing station.
When the packing station closed David and Helen seized the opportunity and invested in their own state of the art unit at Meg Bank with a capacity that dealt with the volume required to supply large retailers.
"It was a risky decision, but one that secured the future of our business. Today, McDonalds is one of our main buyers and purchases 25 per cent of our eggs – half a million a week. The majority of the rest goes to half a dozen of the top 10 retailers," said David Brass.
"With the need to supply much larger quantities, we enlisted the help of other farms in the area. Our community had been badly hit by BSE and foot and mouth and many local farmers were struggling. Some changed their farm to focus entirely on poultry – others just used poultry as a proportion of their business," he added.
As the business grew, David Brass was becoming stretched to his limits and opportunity once again gave it a further boost.
A large egg packer closed down and the decision was made to put a management team in place with David as the managing director, employing the other company's sales director who brought with him a wealth of professional industry expertise and marketing knowledge.
This in turn led to interest from large retailers and resulted in a total investment of around £1 million in the new packing station building and equipment includes warehousing, grading and processing areas and offices which now employs 50 people from the area.
"We began to strongly market what we believed consumers wanted – an animal welfare, environmentally friendly quality product. We guarantee the provenance of our eggs," said David Brass.
Backing this is that eggs are sold under the Lion Code of the British Egg Industry Council and the RSPCA's Freedom Foods standards.
From an initial consistent base of 11 egg suppliers, now the packing station is supplied by 35 producers across the north of England, but mainly within a 30 mile radius of Stainton.
Between 10 and 15 per cent of production is kept in house to give flexibility for peaks and troughs of demand. There are an average 40,000 birds at Meg Bank.
While there is now a waiting list of potential suppliers, the Lakes Free Range Egg Company has given support to its egg producers, sharing business plans to help farmers secure bank loans.
"Without a doubt free range egg production is profitable. You are looking at a £4 a bird margin after depreciation but not including any labour and rent for free range eggs - and it's an expanding market," said David Brass.
"However, the investment is not small so that is why we offer business help. On a Greenfield site you are looking at a cost of £15 to £17 a bird to set up production plus £2.50 to purchase each bird.
"A realistic number of birds for a farming couple to run without extra labour is between 10,000 and 12,000 although we have one supplier who runs 16,000 birds without employing anyone.
"We have other producers with just 5,000 birds. The business provides a good cash flow, unlike other livestock enterprises."
Training on flock management, disease control and welfare is also given as well as industry updates to help producers avoid some of the pitfalls the Brass family encountered in the business's formative years.
© Copyright 2006 Jennifer MacKenzie All Rights Reserved.

Multi-Storey Milking for Michael


Dairy Cattle Sales Bouyant Despite Low Milk Prices


Testing for Johnes Disease