24/07/06
Livestock farmers faced with critical shortages of summer grazing must make reseeding a priority this autumn if they are to avoid similar problems in future years, says Paul Billings of British Seed Houses.
Paul Billings of British Seed Houses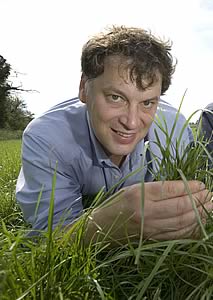 He points out that the average grazing ley in the UK is kept down for around 10 years, and that under average conditions this will be long past its best and animal performance will undoubtedly suffer.
"First of all, any ley of 8-10 years duration is going to contain about 50% weed grasses such as the meadow grasses, creeping bent and Yorkshire fog," says Mr Billings. These are lower yielding, of inferior quality, and will be significantly less responsive to fertiliser.
"Furthermore, even the selected varieties that remain in the older leys will be of significantly lower potential than the latest available varieties. Aber varieties from the IGER breeding programme are increasing yield potential by 1% per year on average, and have made quantum leaps in terms of herbage quality.
"The best of today's grazing varieties AberStar and AberAvon have grazing D values of 11.3 and 10.8 respectively, which compare with just 8.0 for the industry standard of 10 years ago, Fennema.
"Higher digestibility (D value) means that animals will eat more and also utilise the grass more effectively. Hence, in situations where sufficient grass is available to satisfy their increased appetite, improved digestibility has a very large effect on output. NIAB use the guideline of a one point increase in D value increasing animal output by 5%.
"Reseeding will also create the best opportunity to introduce clover, which in a hot and dry season such as 2006 is going to be particularly beneficial in maintaining productivity and herbage quality. Clover maintains very high D values throughout the summer, whilst grass quality can deteriorate when plants begin to head. Again, clover breeding has made significant advances in recent years, and it is known that this species is more tolerant of hot conditions and maintains its nutritive value far better than ryegrasses."
Work undertaken as part of the Grassland Management Practice into Profit programme at Newton Rigg in Cumbria and Duchy College in Cornwall showed an increase in production of 32% from newly seeded leys compared with old established grassland.
Advice on grass and clover reseeding strategy can be obtained free of charge in several booklets available from British Seed Houses, including the company's Seed Mark varieties catalogue.

Single OSR Break Leaves Take-All Problems


Government's pesticide response a vote of confidence in self-regulation


Defra consults on GM coexistance measures


Crop Market Update from Gleadell