20/07/06
Defra has today proposed detailed measures to ensure that any growing of genetically modified crops in England will not disadvantage other farmers. Amongst the consultation proposals is the enforcement of strict separation distances between GM crops and their conventional counterparts.
Oilseed rape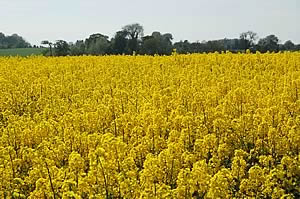 Under EU rules, no GM crops will be grown in the UK unless scientific evidence shows they are safe for human health and the environment. No commercial GM cultivation is expected here before 2009 at the earliest.
Should any GM crops with EU safety approval be grown here in future, the Government wants a well researched framework of practical measures in place to ensure that GM and non-GM production can coexist but remain separate. The consultation launched today is part of the process to develop that framework.
Under the proposals, anyone planning to grow GM crops like maize or oilseed rape will have to ensure that they observe the required separation distance, and where necessary notify neighbouring farmers, to minimise GM cross-pollination. As part of its consultation paper, Defra is also asking for views on a number of related issues:
whether special rules should apply for coexistence between GM and organic crops
options for compensating financial losses that non-GM farmers might face due to the presence of GM material in their crops
whether there should be a public GM crop register
guidance to farmers on voluntary GM-free zones
Environment Minister Ian Pearson said:


"Our top priority is protecting consumers and the environment. We have a strict EU regime in place which ensures only GM crops that are safe for human health and the environment could be grown in the UK. No GMs suitable for UK conditions have met this requirement so far, and today's proposals are not a green light for GM crops.

"But we have a responsibility to be fully prepared if crops which meet the safety criteria are developed and grown here in future. That's why strict separation distances will be enforced so that organic and conventional farmers don't lose out financially and people can make a choice between GM and non-GM products. We also want to hear people's views on the wider issues we have raised in the consultation paper. Those views will inform our further thinking."

Search for Citrus Longhorn Beetles


Australian Farmers Cite Benefits with GM Cotton Crops


Sharp decline forecast for world cereal stocks


Crop Market Update from Gleadell