11/05/06

Aberdeen-Angus sold to a top of 3400gns at the first sale of elite females held by Harrison and Hetherington Ltd at Bristol Sales Centre.

The females champion and reserve overall was Lockerley Abbey C312 by Jeremy Eric of Bridgefoot out of Nightingale Annie T25. She made the top price of 3400gns and sold with her heifer calf at foot by Netherton Krackerjack.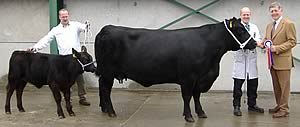 All the females in the new elite section of the annual sale were pre-selected on-farm by former breed president, Willie McLaren, owner of the Netherton herd in Scotland, and were subject to a pre-sale veterinary inspection to ensure a high standard.
"The aim was to give buyers in the South-west of England the opportunity of purchasing top class Aberdeen-Angus females to help meet the growing demand for Aberdeen-Angus prime cattle in the area," said Ron McHattie, chief executive of the Aberdeen-Angus Cattle Society.
"We were very happy with the standard of females on offer and this was reflected in the strong trade for the leading lots."
However, it was a Northern Ireland buyer, A J and J A McElroy, Glenross House, Lisnarick, Irvinestown, Co Fermanagh, who bought the top two females.
Top price was 3400gns for the three year old heifer, Lockerley Abbey C312, by the 28,000gns Jeremy Eric of Bridgefoot, with a heifer calf at foot by Netherton Krackerjack B164, from Lockerley Hall Farm, The Hollies, East Tytherley Road, Lockerley, Romsey, Hants. This heifer was first in her class as a yearling and second as a two year old at the Royal Show and "Best of British" all-breeds champion at the New Forest Show.
Second top price was 2800gns for the six year old cow, Netherton Frances Z014, by Dalrene Cruz 11F, and her bull calf by Rawburn Transformer, from E A and M C Jones, Paulsland House, Rull Lane, Cullompton, Devon. This cow is from the famous Frances line at Netherton, descending from the Canadian imported cow, Cee Bar Favourite, a former Royal Highland and Royal Show champion. A daughter by Netherton Royal Sovereign has been retained in the Rull herd.
Other females in the elite section sold to 2200gns for the yearling heifer, Rosemead Bellmaid E545, by Lockerley Mere Boy Z303, from P C Stovold and Son, Lydling Farm, Shackleford, Godalming, Surrey. This heifer, from one of the oldest female lines in the herd founded in 1946, was drawn from the herd's 2006 show team. Buyer was Mrs Joanna Oldman, Tie Bar Cottage, Church Street, Wivelscombe, Devon.
Lockerley claimed the next highest price for the yearling heifer, Lockerley Babe E491, by Idvies Jester Eric A057, which sold for 2000gns to A G Carter, Standlynch Farm, Downton, Salisbury, Wilts. This heifer is from the same dam as Lockerley Bruno, junior male champion at the Royal Show and now stock bull in the Shadwell herd in Norfolk.
A yearling heifer from W A and H K Robertson, Nightingale, Bishampton, Pershore,Worcester, sold for 1800gns to D J N Morris, Rushmoor, St Clears, Carmarthen. The heifer, Nightingale Pride Jenny D262, is a daughter of the record-breaking Canadian sire, Young Dale Touch Down 36M, which sold in Canada for $80,000.
Bulls sold to a top of 2800gns for the champion, the two year old, Gear Kruz Proclaimer D084, by Dalrene Cruz 11F, from Mark Pilcher, Gear Farm, Zennor, St Ives, Cornwall. The buyer was Oliver Edwards, Wester Mill Farm, Exford, Exmoor, Devon. A full brother to the champion, Lockerley Kruz, sold for 9000gns at Perth and went on to sire a bull sold for 20,000gns.
Second top price was 2200gns for the three year old, Galawater Lord Rupert C618, by HF Air-Walk 33F, from Whitehall Farms Ltd, Reybridge, Lacock, Chippenham, Wilts, who were dispersing the final section of their herd at the sale. The bull was reserve champion at Carlisle in May, 2005, when purchased for the Whitehall herd. Buyer at Bristol was Kelvin Cave Ltd, Roedeer Farm, Drayton, Langport, Somerset.
Whitehall Farms also sold females to 2000gns for the seven year old cow, Whitehall Etna Y413, by Pitney Prince of Thisteldown, and her bull calf by Nightingale Paco A068, also to A J and J A McElroy.
Averages:
Elite females – two served heifers £1417.50, four maiden heifers £1627.50, four cows £1995. Collective sale of females – two cows £761.25, four served heifers £748.13, eight maiden heifers £807.19.
Draft sales – Lockerley (5) £1344, Riversbrook (7) £588, Trevarthian (9) £750.17, Whitehall (11) £957.41, Beeston (3) £857.50, Seren (12) £538.13.
Eight bulls - £1509.38.

Special Elite Sale Of Aberdeen-Angus At Bristol Sales Centre


Export Opportunities Open up for UK Aberdeen-Angus Cattle


Boom Time For The Aberdeen-Angus Breed as Prices Hit New High


Top Awards For Aberdeen-Angus Suckler Herds