21/04/06

The inclusion of a special elite sale of Aberdeen-Angus females will give South-west beef producers a unique opportunity of sourcing top Aberdeen-Angus genetics at the breed's annual spring show and sale at Bristol Sales Centre on Monday, May 8.

Willie McLaren inspects females for the Bristol Sale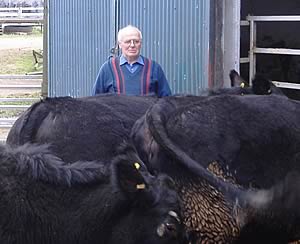 The section will include 25 females from 12 leading herds, plus three Grade A embryos from a top North American line.
Entries will be subject to on-farm inspection prior to the sale by renowned Scottish breeder and former breed president, Willie McLaren, Netherton, Blackford, Perthshire, to ensure females of only the highest quality are consigned.
Perth-based vet, Jim Grant, who is the official vet for the famous Perth bull sales, will also be present on the day to conduct a pre-sale veterinary inspection of all animals entered for the sale, including the elite section.
The show will be judged by another former breed president, Bob Lane, owner of the Penguin herd at Windy Meadows Farm, Edgmond, Newport, Shropshire, and the sale will be conducted by Harrison and Hetherington Ltd, Carlisle.
"This will be a top selection of Aberdeen-Angus cows and heifers which breeders would not normally be selling and is bound to attract strong interest from South-west beef producers looking to reap the benefits of the easy-keep advantages of Aberdeen-Angus cattle and the premium prices available for A-A and A-A cross prime cattle," said Nigel Hammill, Pyegreave Farm, Coalpit Lane, Langley, Macclesfield, Cheshire, the current president of the Aberdeen-Angus Cattle Society.
"Meat wholesalers need to source increased supplies of Angus cattle to meet the requirements of leading supermarkets, such as Costco, Co-op, Marks and Spencer, Sainsbury's and Waitrose, in response to soaring consumer demand for the quality Aberdeen-Angus brand."
Mr Hammill said the introduction of an Aberdeen-Angus herd offered a viable alternative for dairy farmers seeking to give up milk production because of low returns.
"The Aberdeen-Angus cow is docile, naturally polled (hornless), easily fed, easily calved and the ideal grazing animal," said Mr Hammill. "Heifers are easily sold for breeding and there is strong demand at the quality end of the market for prime steers and heifers."
In addition to the elite section, 14 females and 11 bulls have been entered for the collective sale, plus drafts from the Lockerley, Riversbrook, Trevarthian, Whitehall, Beeston and Seren herds.

Catalogues for the sale are available from Harrison and Hetherington Ltd, Borderway Mart, Rosehill, Carlisle. CA1 2RS. Tel: 01228 590490. Fax: 01228 640921. E-mail: info@borderway.com.

Export Opportunities Open up for UK Aberdeen-Angus Cattle


Boom Time For The Aberdeen-Angus Breed as Prices Hit New High


Top Awards For Aberdeen-Angus Suckler Herds


Marketing Opportunities for Aberdeen-Angus as Registrations Hit New Peak