Northumberland Meat from home grown grain
28/05/06
Seventy Northumberland farmers, all members of North East Grains Ltd, one of a successful group of co-operatives in the region, are aiming to produce local meats of such high quality that their proposed new marketing tag "Northumberland Meat" is set to rival Aberdeen Angus brand of Scottish beef.
Neil Carr dispenses some of the high quality animal feed of North East Grains Ltd to the cattle of farmer Dave Jordan.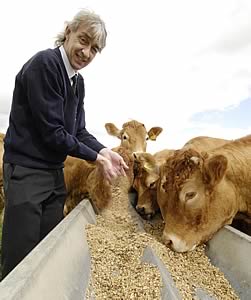 They will do it, the farmers say, by increasing the use of the quality assured animal feed made from the barley, wheat, beans, peas, and other products of their farms which are supplied to the Longhirst, near Morpeth, co-operative complex for manufacture and distribution.
They are aware of the magnitude of the task, but are confident they have the resources and the will to successfully complete it.
"At first glance it may seem that a bid to make the marketing tag 'Northumberland Meat' synonymous - or perhaps as instantly recognisable as 'Aberdeen Angus' beef – is very ambitious but it is certainly achievable," said Neil Carr, general manager of the co-operative.
"The manufactured animal feed North East Grains provides is recognised as being of exceptionally high quality and we want to reach the stage where Northumberland farm animals are flourishing on feed produced by Northumberland farmers from Northumberland-grown grain, and that we end up providing excellent field-to-table food under the proud banner 'Northumberland Meat'."
North East Grains has come on by leaps and bounds since it was first created by only 12 members in 1987. It began as a hands-on venture by members dealing mainly with grain drying, storage, and marketing.
Now it does much more and has plans to increase even further its range of services to members as well as the geographical scale of its operation.
Membership now exceeds 70 and is growing as more farmers realise they cannot afford not to be part of the on-going success story.
Most of the members of North East Grains farm within a 15-mile radius of Longhirst. Eight of them comprise a Board of Directors which meets regularly under the chairmanship of Ian Craigs, whose Tritlington Hall Farm is near Morpeth.
Neil Carr, who manages the co-operative so successfully with a low overhead cost structure, is a Wearsider who has worked in agriculture all his life. During his six years at Longhirst he has helped to mastermind and implement many of the innovative moves made by the organisation.
"One of the many problems facing farmers of today is the time-consuming and seemingly never-ending deluge of legislation and form-filling with which they have to deal," observes Mr Carr. "It is one of my functions to simplify the contents of the deluge and to help members cope with it. It is a service I know is appreciated."

Beef 'Hero CD' To Inspire QSM Caterers


Quality Standard Mark firmly established


Get Fresh With Beefy and Lamby at Chelsea Flower Show