24/05/06
Fresh Quality Standard Beef and Lamb can't be beaten when it comes to top taste is the message for visitors at this year's Chelsea Flower Show.
Beefy and Lamby with chef Mike Robinson at the award winning EBLEX/NFU Garden at the Chelsea Flower Show.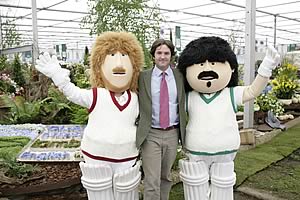 For the second year running the English Beef and Lamb Executive (EBLEX) has teamed up with the National Farmers' Union and UK Horticulture to develop the "Quality Time in the Garden" display, showcasing fresh produce. And the garden was once again awarded a gold medal by Royal Horticultural Society judges.
With gardening expert, Penny Riley and celebrity chef, Mike Robinson (from Heaven's Kitchen), EBLEX pulled together some top tips to help visitors make the most of fresh, seasonal produce.
EBLEX Brand Manager, Jane Ritchie-Smith said, "Our garden display is a great way to encourage the use of high quality produce - and where better to showcase it than at the Chelsea Flower Show? Summer is perfect for spending time outdoors eating fresh, quality food."
Heaven's Kitchen chef Mike Robinson said: "I think it's important for people to support farmers and producers by using fresh local ingredients in their everyday cooking.
"The Quality Time in the Garden stand at the Chelsea Flower Show is a great way to showcase wonderful food and I hope it encourages many to go away and cook with these delightful ingredients."
The scenes in the garden include a topiary cow and sheep in an English meadow, an urban barbeque scene and a country picnic. It can be found in the Great Pavilion at stand E16.

Boosting Suckled Calf Values with Better Fertility


Quality Standard Mark firmly established


£5.5 Million Boost For Beef


A Taste Of The Orient - BPEX