Beefy and Lamby back on TV
28/02/06
THE Beefy and Lamby TV adverts enter a new phase next week with the screening of a commercial promoting Quality Standard Beef mince.
Beefy and Lamby TV campaign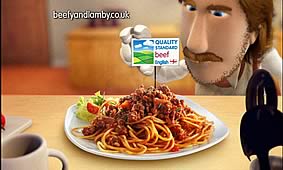 The new animated advert, which will be seen for the first time on Monday (March 6), is part of a wide-raging campaign by the English Beef and Lamb Executive (EBLEX) to help older beef back onto the market following the changes in the over thirty month rules.
The commercials spearhead a wide-ranging basket of activities which include work with the SportsAid charity, promotions with supermarkets and independent butchers and a raft of publicity work including radio interviews with former England cricketer Ian "Beefy" Botham.
A special limited edition recipe booklet "Mince Magic" featuring recipes from major sporting stars is also being produced as part of the EBLEX package.
EBLEX Chief Executive Richard Ali, said: "It is extremely important for the whole industry that beef from older cattle achieves a smooth return in volume onto the market.
"The campaign will draw the attention of consumers to quality minced beef and remind them of the myriad ways in which it can be used as part of a healthy, balanced diet."

Top Sports Back Quality Beef Mince


Beefy and Lamby Back in the Crease


Beefy and Lamby Prove Big Hitters