Beefy and Lamby Prove Big Hitters
13/09/05
Beefy and Lamby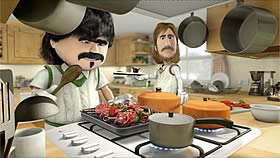 'A SERIES of TV adverts featuring cricketing hero characters Ian Botham and Allan Lamb have knocked consumers for six, according to figures released by the English Beef and Lamb Executive (EBLEX).
The animated Beefy and Lamby characters, who are seen promoting the EBLEX Quality Standard Marks (QSM) for beef and lamb, have attracted widespread recognition from consumers with 62 per cent of people aware of the advertising campaign in England compared with an average awareness of 47 per cent for other advertisements running during the same period.
At the same time, while the campaign was running, the image of Quality Standard beef and lamb jumped in people's perception.
In response to the following questions, consumers surveyed about the Beefy and Lamby advertising said: "the QSM is a label: "I can trust" - 77 per cent, "that QSM is a good indicator of quality beef and lamb" - 76 per cent, "it is an important factor in their choice of meat at the chiller cabinet" - 64 per cent and "the campaign has made them look out for the mark while shopping" - 61 per cent.
Andrew Garvey, EBLEX Head of Marketing, said: "The campaign has proved a stunning success among consumers.
"These are highly positive results which we will be able to build on in the future to ensure the Quality Standard Mark is an instantly recognisable household brand.