Beefy and Lamby Back in the Crease
05/0905
Beefy and Lamby at the Chelsea Flower Show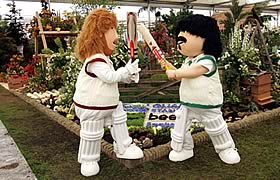 'BEEFY' and 'Lamby' will be back at the crease this autumn batting for the English Beef and Lamb Executive.
'Lamby' will be taking centre stage in a new television advertisement which will be broadcast on ITV, Channel 4, Channel 5 and satellite. The first adverts will be broadcast today - on 5 September - during Coronation Street and the campaign will run for four weeks.
There will also be new consumer and trade press advertisements, the former featuring warming autumn recipes and appearing in Sunday supplements, food magazines and women's magazines.
All these advertisements are backing the Quality Standard mark for beef and lamb, though the focus this time is on lamb.
EBLEX Brand Manager Jane Ritchie said: "The campaign is timed to coincide with the peak season for English lamb on the shelves and it is also the time for wonderfully warming autumn lamb dishes.
"The key message of it all is that lamb (or beef) carrying the Quality Standard has been inspected from farm to shop so consumers can be sure of the excellent eating quality of what they are getting."
The campaign includes point of sale material such as posters, cabinet strips and menu boards for use by butchers, pubs and restaurants, highlighting Quality Standard Lamb.