McCormick appoints new area manager for south Wales and south-west England
24/08/05
Steve Cann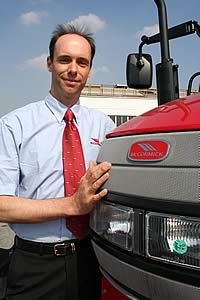 Farm and groundscare tractor manufacturer, McCormick, has a new man in the south-west. Steve Cann (37) has been appointed area manager, covering a territory that takes in south Wales and south-west England from Cornwall across to Berkshire and Dorset.
Steve knows the area well, having started his career in the workshop and on-farm service team run by the RSM Beares, the McCormick dealer in Devon. He spent the past three years covering much the same territory for Kverneland as product support engineer.
"Sales is a new field for me but I think my after-sales service background will stand me in good stead as my area manager role largely involves helping dealers explain the technical and performance features of McCormick tractors," says Steve. "Having worked on Doncaster-built tractors for some years I know them inside out - although today's models are more advanced than their predecessors."
The 80hp to 150hp bracket that Steve points out is especially popular with the mixed and livestock farms in the south-west is ably covered in the McCormick range by the 70-100hp CX XtraShift models, the more sophisticated 90-136hp MC and MC Power6 tractors and the bigger 115-152hp six-cylinder MTX machines.
"For bigger farms and contractors, the new XTX range, which features a unique eight-speed powershift transmission, is very appealing," adds Steve. "With a new high visibility cab, electronic 'power boost' engines from 162hp to more than 200hp and auto gear shifting on the road, this is a real high-performance machine."
Steve Cann lives with his wife in the heart of his dealer support territory at Tiverton, Devon.
Local McCormick dealers with whom Steve Cann will be working are:
Cornwall: Truro Farm Machinery, Truro
Cornwall: RSM Beare, Coad's Green, Launceston
Devon: RSM Beare, Stoke Canon, Exeter
Somerset: Uphill & Son, Chewton Mendip, Radstock & G A Vowles, Ilminster
Berkshire: PJS Agricultural Services, East Garston, Hungerford
Pembrokeshire: Riverlea Tractors, Crymych
Carmarthenshire: Riverlea Tractors, Millfield, Whitfield
South Glamorgan: Riverlea Tractors, Llandow