05/01/06
Warwickshire dairy farmer Tony Reed's long term aim of increasing the value of his pedigree Withycombe Holstein herd received an unexpected boost when he won £1000 worth of semen selected from any of the North American and European sire breeding programmes available through Semen World.
A delighted Tony Reed (left) discusses his herd breeding objectives with Semen World's Peter Ridler on hearing news of his £1000 win.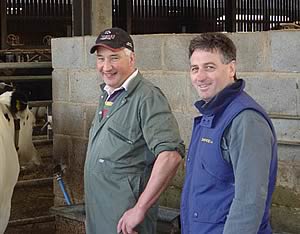 Tony was one of five dairy farmers across the country to secure top prize in a competition organised by Farmers Weekly magazine, and he has had the added advantage of free access to Semen World's exclusive Worldwide Mating Service (WMS), which ensures the selection of the most suitable sires for his herd.
Five years ago, shortly after moving to Walcote Manor Farm, Alcester, Tony embarked on a herd expansion programme, deciding at the same time to breed the highest quality cattle. The herd has now been registered pedigree for three years and has been classifying for two years under the Withycombe prefix. Tony is now milking 180 cows, and these are averaging around 10,000 litres on a TMR feeding system.
With the priority in future being to continue to improve both the production potential and the quality of his cows, and in particular increase longevity, Tony was delighted to win a £1000 Semen World semen selection.
"I had been interested in a number of sires from Semen World and had actually seen some heifers by Blitz in Canada that I thought would fit very well in our herd," he said. "The fact that the Worldwide Mating Service programme came up with Blitz and also Atom as ideal sires for our herd therefore confirmed my thinking.
"We have good production cows in the herd, so our emphasis going forward is to breed in the qualities that will increase longevity by ensuring they will stand up to the stresses of commercial milk production.
"Having used up our prize allocation on Blitz and Atom, we are also ordering Damion and Duplex as sires that are very strong for type characteristics and also came out of the WMS programme as very compatible with our herd."

Holstein breeders sale a great success


Nominations sought for RABDF Princess Royal Award


Grassland management innovator receives RABDF Princess Royal Award