23/12/05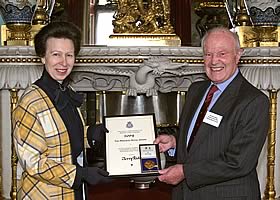 Nominations are being sought for the RABDF Princess Royal Award, the highest merit available in the dairy industry, and open to anyone working in the sector or associated with it in any capacity.
"The RABDF Princess Royal Award is made to the person who has contributed in an outstanding manner for the benefit of the UK dairy industry, either for a particular specific and significant contribution and/or for exceptional service to the sector for a long period," explains the Association's chief executive, Nick Everington. "We are welcoming applications from herdsmen, farm managers, and farmers as well as those working in the supply industry and from right across the dairy food chain."
The winner will receive a certificate signed by Her Royal Highness, the Princess Royal and an engraved medal. The deadline for nominations is Monday 16 January and the winner will be announced in February.
This year's judges are Royal Agricultural College principal, Prof David Leaver; Oxfordshire based dairy farmer, David Christensen and Horsham based dairy producer, Jim Harrison who received the RABDF Princess Royal Award in 2002.
Other recent recipients include dairy farmer, Jerry Rider. Northern Ireland based grassland researcher, Prof Fred Gordon; Holstein breeder, the late Michael Armstrong, cattle vet, Dick Sibley.
All nominations should be made to the RABDF office on 0845 4582711.

Grassland management innovator receives RABDF Princess Royal Award