New fungicide being developed to meet the needs of UK cereal growers
05/01/06
A NEW cereal fungicide designed to help UK farmers fight back against growing disease resistance problems - by meeting the demand for higher doses of triazole fungicide, combined with an anti-resistance fungicide partner - is being developed by Syngenta Crop Protection.
New cereal fungicide UK 282 - similar yield and disease control levels to leading standard fungicides in extensive tests.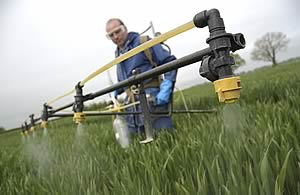 Known by its code name, UKF0282, the development product contains two curative triazole fungicides shown to penetrate inside the leaf, combined with the anti-resistance partner of Bravo (chlorothalonil), which protects against fungal growth on the leaf surface.
Extensive testing of the new mixture - particularly against Septoria tritici - in over 35 trials around the UK, has shown levels of disease control and yields similar to those from leading triazole fungicide standards.
However because UKF0282 contains active ingredients that are already available, there have been none of the huge development costs associated with bringing new active ingredients to the market, Syngenta points out.
Instead, twenty first century know-how has been used in creating an efficacious formulation, it adds.
"Low cereal prices mean high yields from top disease control are crucial with cereal production," says Syngenta cereal disease specialist, Matt Pickard, "in order for growers to maximise crop margins.
"Equally, though, with low grain prices, we know that growers are looking for cost-effective disease control solutions.
"Trials have shown that programmes containing UKF0282 have given Septoria tritici control and yields to match mixtures of the triazoles epoxiconazole or prothioconazole with Bravo. In trials, UKF0282 has also given similar brown and yellow rust control to epoxiconazole with Bravo," he adds.
Tested in both wheat and barley, UKF0282 has been developed based on the concept of triazole stacking. This is essentially the mixing together of different triazoles each with complementary disease strengths. "Chlorothalonil completes the armoury, providing reliable control of all strains of Septoria tritici," Mr Pickard points out.
"Similarly, research has shown that the two triazole ingredients contained in UKF0282, cyproconazole and propiconazole, penetrate and move through a cereal leaf at different speeds. The faster moving fungicidal activity from cyproconazole is complemented by slower moving activity of propiconazole to give more even leaf protection."
Syngenta hopes to have the evaluation of UKF0282 completed by the Pesticide Safety Directorate in time for the 2006 season.

Barley trials show straw yield may not be linked to length


New spring barley offers growers top yields and export potential


New Blending Plant Increases Feed Choice For Dairy Farmers