New spring barley offers growers top yields plus UK domestic use and export potential
22/11/05
A MAJOR spring barley variety that not only brings new levels of yield but could also widen growers' end market opportunities thanks to strong performance in domestic and European malting tests is being launched to UK growers for 2006.
Robert Hiles of breeder New Farm Crops: High yields plus good progress in UK and European malting tests make new spring malting barley NFC Tipple an ideal 2006 choice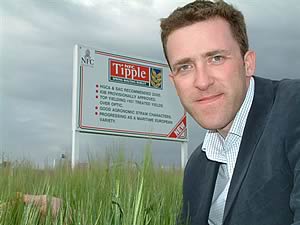 NFC Tipple has already been awarded provisional approval 1 for brewing by the Institute of Brewing (IOB) in the UK, and is the highest yielding spring malting barley on the HGCA Recommended List 2005/06.
With a treated yield of 109% it offers a full 10 percentage point yield advantage over the UK's mainstay spring malting barley variety, says breeder Syngenta Seeds, and a three percentage point lead over its nearest rival with full IOB brewing approval.
But more than that, it is also progressing well in malting tests across Europe. If successful, that could make it a pan European spring malting variety, says Simon Phillips, head of product development for New Farm Crops, the cereal breeding division of Syngenta Seeds, helping end users achieve the consistency looked for with increasingly pan European brands of beer.
"Spring malting barley continues to offer real advantages for UK growers as we plan for 2006," explains Mr Phillips.
"With its low fuel and fertiliser requirements, it is highly cost-effective to grow. Analysis reveals gross margins of over £400/ha are achievable – compared with just over half this from spring oilseed rape and around £161/ha from spring peas.
"Moreover, global beer consumption is forecast to increase to more than 1.9 billion hectolitres by 2015, particularly driven by Eastern Europe and Asia. With our 79% pass rate for spring malting barley to meet malting requirements, there are real opportunities for UK growers – for domestic brewing, export malt and export grain markets.
"The key is to grow top yielding varieties that are widely accepted by buyers. With its exceptional yields and growing UK and European acceptance, we believe NFC Tipple really fits that bill."
According to Robert Hiles, head of sales and marketing for New Farm Crops, as well as provisional IOB approval in the UK, NFC Tipple has been awarded a provisional highest grade A classification for malting quality in France, and is undergoing commercial malting testing in Germany, Denmark and Sweden. A good balance of all the main quality criteria that maltsters and end users look for seems to be the reason behind its success.
"At a field level, yield on the HGCA Recommended List 2005/06 exceeds all other key varieties with full IOB brewing approval in all regions," Mr Hiles adds. "Additionally, NFC Tipple is straightforward to grow. It has good disease resistance – very similar to rising star variety Cocktail. And, importantly for ease-of-management, it has very stiff straw – with a nine rating for resistance to lodging and eight for resistance to brackling.
"But probably most important, given recent end user shifts back towards grain with a lower nitrogen content, it is an inherently low grain nitrogen producer. That can make it is easier for growers to achieve required malting specifications. It's a safer bet in this respect," he adds.
With five different UK maltsters currently evaluating over 2,000 tonnes of NFC Tipple from last harvest, Mr Hiles is hopeful of gaining full IOB approval for brewing during 2006.
Based on a spring barley control yield of 6.8 t/ha on the HGCA Recommended List 2005/06, and an average spring malting barley price of £80/t, he calculates that a three percentage point yield advantage for NFC Tipple over an alternative variety equates to an extra £16.30/ha returned to the grower.
"Spring barley remains a profitable crop, possibly more so than winter crops given high fuel and fertiliser prices.
"Also, beer brands are increasingly pan European, end users are keen on European varieties, and UK growers are well placed to produce high quality spring malting barley. With its high yield, a balanced quality profile and progress in UK and European tests, NFC Tipple potentially widens marketing opportunities for growers," he adds.

New Blending Plant Increases Feed Choice For Dairy Farmers


Watch for rots as potato stores fill