08/12/05
Carrie Davis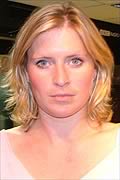 The Veteran Horse Welfare (VHW) charity now has one of the top celebrities from Radio One as their Patron. Carrie Davis, sports reporter for the Chris Moyle's Show, will make her first public appearance as patron for the VHW at this year's International Show Jumping Championship at Olympia on December 18th at 10.00am. Carrie will be presenting the Veteran Horse Society's (the charity's sister organisation) Achievement Award to veteran show jumper Santa's Echo, who will be ridden by Tim Stockdale.
Carrie has had a love of horses since she was 7 years old and horses have always played a part in her life. The Chris Moyles breakfast show has over 9 million listeners and the VHW hopes their new patron will help raise the profile of the valuable work the charity does for the welfare of the older horse.
Carrie spoke of her new role after finishing the breakfast show from 7am to 10am with Radio One; "It's difficult to get out in London, but I try and go riding whenever possible, even if its just a short hack around the countryside. I absolutely adore horses and nothing can beat a gallop on a beach to blow away those cobwebs, so to be able to do something to help gives me enormous pleasure and I can't wait to meet everyone from the Veteran Horse Welfare team."
The charity was formed in 2004 by Julianne Aston, also founder of the Veteran Horse Society in 2001. Commenting from the VHW rehabilitation centre in Pembrokeshire; "I am absolutely honoured and delighted that Carrie has agreed to become patron and she is very dedicated to the care and welfare of the older horse. I am sure that with her position on the Chris Moyle's breakfast show, she will really be able to help us help many more older horses and ponies through-out the UK and Europe".
The charity funds private individuals and organisations with older horses and has already given over £60,000 to the VHS to assist in the development of the welfare of older horses.

Horse Riders To Enjoy New Facilities At Northumberland Equestrian Centre


Horse passport (England) regulations laid before parliament


Annual Cowper Day sale of Horses and Ponies