Horse passport (England) regulations laid before parliament
20 May 2004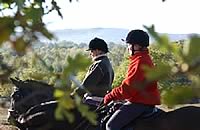 Final regulations setting out the requirements for horse owners under the new horse passport scheme have been laid before Parliament today by Rural Affairs Minister Alun Michael.
The regulations reflect constructive comments from the Parliamentary Joint Committee on Statutory Instruments and include some key changes affecting owners of equines (any horse, pony or donkey). In particular,
The regulations make clear that horse owners must apply for a passport by 30 June 2004, from one of the registered Passport Issuing Organisations.
From 28 February, 2005, a passport must be presented whenever an equine moves premises, enters competition, is used for breeding, leaves the United Kingdom, is sold, or is presented for slaughter. This date will apply across the UK.
The original cut-off date for obtaining a passport was 30 June 2004. While still encouraging equine owners to meet the deadline, Defra has responded to the advice of horse organisations by allowing more time before enforcement will begin. Owners will therefore have more time to comply with the new legal requirement. The Scottish Executive, Welsh Assembly Government and Northern Ireland Department for Agriculture and Rural Development have agreed with Defra that restrictions on horses without passports will apply from the date of 28 February, 2005, throughout the UK.
Rural Affairs minister Alun Michael said:
'The horse passport scheme means we will comply with European health obligations. It will allow us to continue using our existing wide range of horse medicines which provide a vital safeguard on horse welfare.
'We have taken care to listen to the concerns of horse owners and their organisations throughout the process of making these regulations, and remained open to their suggestions for improving the scheme.
'Many equine owners will already have applied or received their passports, and I applaud those who have done so. But if you own an equine and haven't yet applied - now is the time to do so.'
All passports will include a section to record the date certain veterinary medicines were administered to the horse. This section must be completed if the declaration on whether the horse is intended for human consumption has been signed, or if no declaration on intention has been made. Horse welfare organisations support the signing of the 'intended for human consumption' declaration because it keeps open all routes of disposal, minimising the potential for welfare problems at the end of an equine's life.
Background information
What is a horse passport?
It is an official record of the veterinary medicines with which a horse has been treated.
Why is it necessary?
The UK is obliged to implement European Commission Decision 2000/68/EC, which applies throughout the European Union and requires all horses to have a passport. The objective of the legislation is to protect the health of those who eat horsemeat by preventing horses entering the human food chain if they have been administered with any medicines that are not intended for use on food producing animals.
Without the issuing of these records the industry may be banned from using up to 75% of medicines it currently employs including popular ones such as 'bute', placing the welfare of thousands of horses in jeopardy.
What benefits will the scheme bring to the UK Horse Industry?
The scheme will ensure we continue to have access to best range of veterinary treatments for equines
It will discourage indiscriminate breeding of horses and ponies which may be of low quality and value, which brings consequent problems of ownership and welfare with it.
As all horses sold must be accompanied by a passport, potential buyers can ensure the identifying particulars of a horse are correct, leading to a reduction in trade of stolen horses.
Details collected from Horse Passport applications, Defra and the horse industry will establish and maintain a National Equine Database, the . This database, forms a vital part of the long term strategy for the industry.