15/11/05

Andrew Hornall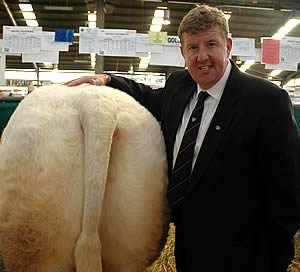 Andrew Hornall will be presented with the challenge of judging the 85 Charolais bulls at the breed society's show Borderway Mart, Carlisle on Friday 25 November prior to them coming under the hammer the following day. In addition, he will do the honours among 38 pedigree Charolais females entered for the annual Christmas Cracker event. The event includes a further 130 cattle including drafts from Charbron, Gretnahouse, Maerdy and Thrunton, and the dispersal of the Bishopton herd.
Andrew comments: "I'll be looking for well fleshed, balanced bulls to suit the commercial man with that something extra to make a champion with additional length, stretch and style." As far as the females are concerned, his criteria will include 'good withers and topline, a wide pelvis and not too much muscle, combined with that essential fleshing and feminine nature'.

Andrew grew up with Charolais on his family's 200 acre Falleninch Farm, Stirling. His grandfather secured some of the earliest Charolais imports more than 30 years ago to establish his noted Stirling herd. Andrew has gone on to develop his own Falleninch herd in the late 1990s with selected genetics from the Stirling herd prior to its dispersal. Since then, he has built Falleninch's numbers to 23 head.
"Charolais was introduced to the UK to improve weight for age, and within the last four decades, breeders have done a lot of selective breeding; we now have easy calving bulls that are backed up by data and, Charolais is still at the forefront to do exactly the same job," Andrew explains. "In fact since we no longer work under the constraints of the old payment regime, Charolais is really coming in to its own by demonstrating it is able to leave a modern perfect product. Charolais cross calves have just enough bone, plenty of length and height, and they can finish more quickly to target weight than any other Continental cross, particularly the heifers."
At Falleninch, Andrew is focused on breeding bulls for the commercial farmer that are suited to today's modern beef industry, those which leave easy fleshing Charolais calves finishing from 14 months. "They must have length, height, width, correctness and a bit of style," he says. "Furthermore, in view of the fact our selected females have such tremendous depth of breeding, we are keeping our eye on breeding Charolais for the pedigree market."
He adds: "A couple of years ago we introduced some natural fleshing to the herd with Mortimers Tebay." Tebay is by Doonally Olmeto and out of the celebrated Burke trophy winner, Mowbraypark Gigi, and full brother to the 10,000gns Newroddige Venture who earlier this year claimed the Royal junior breed and interbreed championships, and the M&S Beefbreeder interbreed award.
While the Stirling herd amassed numerous awards during its lengthy career, including the Burke trophy, Andrew's own success so far, has extended to the Royal Highland ring where his Falleninch Sophie secured the supreme interbreed and junior interbreed awards in 2003.

Charolais breeds quiet optimism


Perth Charolais bulls meet a flying trade


North East man to judge Perth Charolais cattle