17/10/05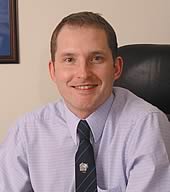 Steven McLean

Two major players in the livestock industry have joined forces with a recently created UK livestock database - which has been awarded nearly £1/2 million government backing.

MLC Signet has signed up a long term agreement with BASCO Data Ltd., whereby the industry owned database will be the platform for carrying all Signet's performance and pedigree records.
Professor Geoff Simm

The Genetic Evaluations for all Signet's breeding services will, with effect from 2006, be carried out by SAC's Genetic Evaluation Unit, based in Edinburgh and led by Professor Geoff Simm.

BASCO was created as a joint venture by the Limousin Cattle and Suffolk and Texel Sheep Societies, initially to replace their existing pedigree data bases. The recent award of a £453,700 grant - the biggest ADS (Agricultural Development Scheme) grant ever awarded to the beef and sheep breeding sectors will mean that pedigree data, performance records and health information will be held on a single database for the very first time in the UK.
Steve McLean

BASCO's business manager, Steven McLean says he is delighted with the grant: "This enables us to provide to the whole of the beef and sheep sectors in the UK and beyond with the world's most sophisticated livestock data base, written on the GT-X platform and designed as a multi-user, multi-hit, web enabled application.

He continues: "DEFRA's backing allows us to enhance our basic data-base, delivered to our 5,500 members last year. It is also the catalyst for the integration of performance recording into an 'industry owned' structure, fast forwarding the delivery of a much more sophisticated performance package. We are now in a position to invite all UK based sheep and beef breed Societies to take advantage of BASCO's exciting developments."

Delivery of the BASCO system is by British Company, Graham Technology, the Glasgow based suppliers of futuristic data systems which power Egg online banking and Argos to name but two household names.
Dr Duncan Pullar

MLC's Beef and Sheep Industry Development Manager, Dr Duncan Pullar, acknowledges: "We are delighted to be working closely with BASCO Data and SAC. Co-operation will reduce costs and paperwork long term for all sectors of the industry, at the same time as providing a state-of-the-art database.

"Using a single source of pedigree and performance information will provide pedigree and commercial producers with fast access to reliable information. There is no doubt future profitability of beef and sheep businesses will depend on selecting the right animals for the job. BASCO Data will be a very valuable tool to identify breeding requisites, unlocking marketing power and ultimately profitability," adds Dr Pullar.

Head of SAC's Sustainable Livestock Systems Group, Professor Geoff Simm says, "With genetic evaluations for beef, sheep and dairy all being consolidated into one centre of excellence in Edinburgh, and beef and sheep records being stored in the same database, the UK breeding industry is equipping itself to face the increasing demands for recording in the future.
Professor Bill McKelvey

"The future will see a need to record many more traits such as those involved in health, fertility, product quality and welfare. BASCO is to be congratulated in making this all possible and SAC look forward to contributing to its future success and the farmers it serves.

Professor Bill McKelvey, Chief Executive of SAC, welcomed the development. He says "SAC is pleased to be involved in this major new industry initiative. We see this as a stepping stone which will enable the industry to take greater control over its future and create a platform that allows it to respond to market signals more quickly. Significantly, this is a UK driven performance recording system, using UK animal models , designed for UK livestock producers "

Texel Genetics To South America