06/10/05
A Staffordshire catering butcher was yesterday voted by his rivals from around the UK as the 'Overall Winner - BPEX (British Pig Executive) Foodservice Sausage of the Year Competition 2005'.
Keith Boxley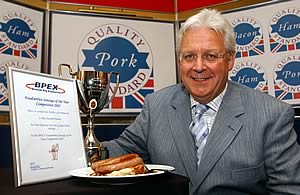 Womborne Butcher Keith Boxley's reduced fat, reduced sodium pork sausage, using garden herbs as seasoning to replace salt was unanimously chosen as the nations' catering sausage champion of champions.
The competition final was held at Butcher's Hall in London on Tuesday, 4 October. There were five categories in the contest which was open to all British sausage makers who supply caterers. The categories were: traditional pork sausage, speciality pork sausage, reduced fat/ reduced sodium pork sausage, chef's/butcher's own pork sausage, frozen sausage.
More than 200 entries were received, These were whittled down to 15, three in each category, by a team of experienced judges from LIPS (Ladies in Pigs), BPEX and the Meat and Livestock Commission. The 15 finalist sausages were then judged on the day by representatives of LIPS and the National Pig Association, along with the finalist butchers and manufacturers themselves.
Keith Boxley said: "I'm on cloud nine! This is a real honour and a surprise - you hope, but never actually expect to win. And to have my sausage nominated by all the other finalists as their chosen champion is really special.
"I've been making sausages for twenty years. This particular one took me almost four years to perfect. Quality ingredients make a big difference and I always use quality British pork. I have a fully traceable supply chain and always tell my customers what farm the meat was sourced from on their invoice - I believe this is important and makes a difference."
BPEX Foodservice Manager Richard Fagan said: "If it hadn't been labelled none of us would have been able to tell it was a reduced fat, reduced sodium sausage. It had a great taste and texture and Keith richly deserves this coveted title.
"The fact that this sausage is about to be supplied to a local primary school in Staffordshire demonstrates the willingness of the meat trade to develop new products which address the health concerns highlighted by Government.
"The quality of all the entries seems to improve year on year and it is easy to understand why the great British Banger is one of the Nation's favourite foods."
As overall winner Keith received the recognition of the industry, an engraved cup and a framed certificate to display in his business premises.
Note to Editors:
Foodservice Sausage of the Year Competition 2005 full results are as follows:
OVERALL WINNER
Boxley's of Wombourne, West Midlands Reduced Fat with Garden Herbs
Category One - Traditional Pork Sausage
Winner
Edwards of Conwy, Wales Traditional Pork Sausage
Second Place
Plumgarths Foodservice, Cumbria Plumgarths Cumberland
Third Place
Boxley's of Wombourne, West Midlands Traditional Pork Thin
Category Two - Speciality Pork Sausage
Winner
H Clewlows Butchers Cheshire Pork and Apricot
Second Place
Frank Godfrey Ltd, London Pork and Leek
Third Place
Gabbott's Farm Ltd, Lancashire Extra Tasty Cumberland
Category Three Reduced Fat & Reduced Sodium Pork Sausage*
Winner
Boxley's of Wombourne, West Midlands Reduced Fat with Garden Herbs
Second Place
The Welsh Sausage Company, Wales Pork, Chilli and Pepper Low Salt
Third Place
Complete Meats, Devon Low Fat Pork Sausage
Category Four Chef's/Butchers Own Pork Sausage
Winner
The Welsh Sausage Company, Wales Welsh Dragon Sausage
Second Place
Edwards of Conwy, Wales Pork and Chilli
Third Place
The Country Butcher, Gloucestershire Wye Valley Sausage
Category Five Frozen Sausage
Winner
Cranswick Country Foods, Humberside Lincolnshire
Second Place
The Welsh Sausage Company, Wales Farmhouse Breakfast
Third Place
Complete Meats, Devon Frozen School
* reduced Sodium requires that the sausages contain 0.12g of sodium per 100g, equal to 0.31g salt/100g