2005 Northern Expo Holstein Show
03/10/05
2004 Champion - Holmland Storm Flo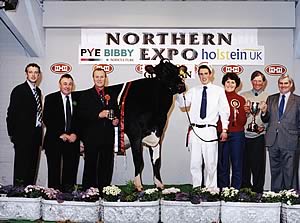 The Northern Expo Holstein Show in its 23rd year is largely seen as one of the main events in the dairy calendar and is once again scheduled to take place in Carlisle next month in what is now established as a national autumn show fixture.
With twenty-five classes and special awards the progressive show committee has again gone one step further in its bid to involve the young dairy enthusiasts by staging three classes for calves and introducing a trophy for the champion calf. The show is an evening event (with free entry to the show) in order to allow farmers and businesses to finish chores before attending.
The evening kicks off at 6pm, with class one for calves to be born on or after 1st December 2004 - to be led by a handler aged under 16 years, class two for calves born between 1st August 2004 and 30th November 2004 and class three for Maiden heifers born between 1st April 2004 and 30th November 2004.
The Calf Championship will be judged after these three classes. Following on from this presentation will be class three, for heifers in calf, class four, will be for cows in calf followed by class six being the Best animal on Production and Inspection.
Class seven will be the in milk heifer class (split between junior's and senior's) then comes the Genetic Merit award, Junior Championship and Exhibitor Bred Junior Championship. Class eight sees the commencement of the in milk classes starting with Junior cow (3yr old) in milk, class nine, Intermediate (4yr old) cow in milk followed by class ten, Senior cow in milk. Following these classes will be the Breeders Pair, Best Udder in show, Best Exhibitor Bred Animal and Best New Exhibitor (not to have shown at Northern Expo In the last five years).
Following these sought after awards will be the moment everyone is waiting for as all the 1st and 2nd prize class winners grace the ring once again to the buzz of excitement as the judge taps his GRAND CHAMPION, Reserve Grand Champion and Honourable Mention of the 2005 Northern Expo Holstein Show. A further incentive to exhibitors and following these main titles the presentations and prizes will be awarded to the Premier Breeder (Breeder with most points in the show) and Premier Exhibitor (Exhibitor with most points in the show) and onto awards being presented to the handlers of the Grand Champion and Reserve Grand Champion.
Of particular interest, this one day show awards prizes to tenth place with animals awarded the prestigious titles receiving £500 for the Grand Champion, £250 Reserve Champion £150 Honourable Mention and £150 to the Junior Champion.
This year's event at Harrison & Hetherington's Borderway Mart, Carlisle, on Friday October 28th - the 23rd show - is once again sure to attract an impressive line-up of cattle from an estimated thirty plus exhibitors. Indeed the quality of cattle and popularity of the event have been such that The Farmers Guardian, Holstein UK, Pye Bibby Agriculture and Semen World Ltd are on board as the major show sponsors.
Judge - Brian Garrison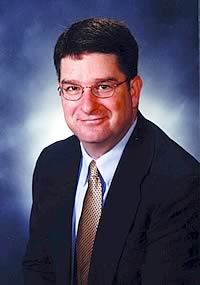 To judge this eagerly awaited event we welcome Mr Brian Garrison of Ohio. Brian is a Dairy Science graduate of the Ohio State University, and lives in Tiffin, Ohio with his wife Ann and three children. Brian has over 18 years of experience in the AI Industry. He is considered by many as one of the really outstanding "cow men" in the industry today. He is in demand world wide as a dairy judge and has presented many breeding and marketing seminars.
Brian judged the International Holstein Show at World Dairy Expo in 1997, and was the associate judge in 1994. Also at World Dairy Expo Brian has judged the National Jersey Show 1998, National Brown Swiss Show 1996 and 2000, National Milking Shorthorn Show 2000, and the National Red and White Holstein Show in 1999. He has judged almost all the major shows around the would, including National Holstein Shows in Canada, The Holstein and Swiss show (2x), Expo Milk in Brazil, UK National Show in 1999, German Open Holstein Show, National Holstein and Swiss Show in Switzerland, Hokkaido Spring Show in Japan, National Holstein Show in France, Brown Swiss Show in Quereturo, Mexico and Holstein International Dairy Week Show in Australia. Brian has also given presentations in Canada, Latin America, Italy, Czech Republic, Austria and New Zealand.
Along with Brian's distinguished judging career, he has worked extensively consulting many large commercial herds and he appreciates the profitable commercial cow as well as the show cow. We look forward to seeing Brian in October and the committee wishes to convey our thanks to Semen World/World Wide Sires for sponsoring his visit to our show.
Commentary on the show evening will be given by last years judge, and Holstein enthusiast Mr.Gerald Carter who dispersed his renowned Bricknell herd based near York in 2004.
While early honours were dominated by the Parboldhall and Greengill prefixes, enthusiasm, quality and numbers continued to grow resulting in more than one re-location for the event and over the last decade and more the show has witnessed continued development, which always welcomes new faces to enter as exhibitors.
Northern Expo in its present form was born in 1996, welcoming entries from beyond the original club's membership and attracting the very best Holsteins from as far apart as Inverness, Cheshire, Wrexham and Staffordshire.
Schedules and entry forms are available online or from the Northern Expo Secretary Jenni Wharton on 01228 792352 or 07752 060406, e-mail info@holstein-expo.co.uk website www.holstein-expo.co.uk with the closing date for Entries being Friday 21st October.
Past champions:
1982 P Moore's Parboldhall Linda Charm
1983 TG Dent's Greengill Fear Colantha
1984 TG Dent's Greengill Fear Colantha
1985 TG Dent's Deehaven Lester Annora
1986 Melling and Loftus's Elmdae Citamatt Dolly
1987 TG Dent's Deehaven Lester Annora
1988 Melling and Loftus's Elmdale Citamatt Dolly
1989 C Dent's Bridge End Snowdrop 14
1990 WW Garnett's Milnthorpe Warden Candy
1991 WW Garnett's Milnthorpe Warden Candy
1992 Riley and Bustard's Aston Starbuck Audrey
1993 RJ & D Loftus's Maeburn Inspiration Mona
1994 RJ & D Loftus's McAcres Inspiration Jane
1995 WW Garnett's Milnthorpe Jethro Carol
1996 A Laird's Altona Lea Broker Emma
1997 D Laird's Aleah Chairval Marsh
1998 RJ & D Loftus's Robrook Astre Annette
1999 R J & D Loftus's Robrook Astre Annette
2000 A Laird's Bondvale Broker Natasha
2001 No Show
2002 H Wright & Son's Holmland Storm Flo
2003 P & G Rawcliffe & M & S Nutsford's Marsbar Marker Betty
2004 H Wright & Son's Holmland Storm Flo
Past judges:
Cecile Deslippe (Canada)
Ray Royce (Canada)
Jim Wright (USA)
Islwyn Griffiths (Wales)
Colin Davidson (Scotland)
Ian Montgomery (Ireland)
Eric Hansen (Denmark)
Richard Howe (USA)
Marc Comtois (Canada)
Brian Eby (Canada)
Doug Wingrove (Canada)
John Cochrane (Scotland)
David Loewith (Canada)
Edward Morgan (Wales)
Giuseppe Quainni (Italy)
Jimmy Hodge (Scotland)
Paul Larmer (Canada)
Jean Francois Saluden (France)
Dr David Chalack (Canada)
Chris Lang (USA)
Brian Coghlin (Canada)
Gerald Carter (UK)

2005 Northern Expo Holstein Show Report


Gloucester Dairy Farmer Takes Top Industry Trophy