Jonathan Wales with his parents Thomas and Joan and Janet with baby Harry, Joe, centre front, Thomas, standing right, and the boys' cousin Oliver Burbury.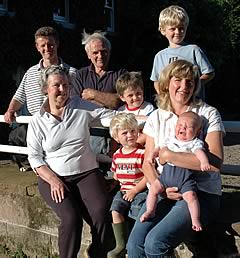 Easy lambing, easy finishing and good fleshing qualities have kept the Wales family loyal to the Charollais over the last two decades.
All but 40 gimmers of their pedigree Thackwood flock were lost in 2001 to foot and mouth and now they are re-establishing their flock which numbers 120 pure ewes at Thackwood Farm, Raughton Head, near Carlisle.
Jonathan Wales, his wife Janet and his parents Thomas and Joan farm 200 acres at Raughton Head, as a family team with Janet helping out at lambing time and Joan feeding the pet lambs and Jonathan and Janet's three sons, Thomas, five, Joe, three and baby Harry already in training to continue the tradition!
Thackwood was rented in the 1920s by Jonathan's grandparents and his grandmother and father took the opportunity of buying the unit in 1949.
They now run a herd of 100 Simmental and Belgian Blue cross suckler cows put back to the Limousin bull with calves sold as stores at about a year old.
Heifers are kept as replacements since the herd has been closed since 2001, like the pedigree Charollais flock.
Jonathan Wales took 40 rams to the annual Kelso ram sale last September which averaged £400 amd a top price of £2,000 and a batch of five was taken to the NSA rams sales in Builth Wells for the first time in 2004.
While his breeding policy is to produce the best, incorporating a strict culling regime, he is realistic about the market his rams will achieve.
"Too many people go into pedigree sheep breeding thinking they will produce breeders' rams," he said. "We have got to supply the commercial market first and anything that rises above that provides the icing on the cake."
Jonathan took up the trade of a joiner when he left school, returning to the family farm in 1984 following a tradition of breeding Bluefaced Leicesters.
He wanted to start a pedigree sheep flock and it was one of the first importers of the breed, John Mackie of Lockerbie, who got him into the Charollais.
Rams sold at last autumn's sales.

By the mid 1990s the flock had been built up and was regularly selling 50 tups a year, aimed at the commercial breeder.
"I believe that you must be able to see your ram in the field among the ewes and we tend to select rams that will breed a hardier type of Charollais which will suit the commercial producer who wants to lamb outside," said Jonathan Wales.
"Features of the breed are its easy finishing and good fleshing abilities but also importantly its easy lambing, something which is becoming more important with their being less labour on farms particularly with the introduction next year of the new single farm payment and less income from subsidies.
"I think the Charollais will have a big part to play as it is an easy lambing terminal sire."
Along with the 40 gimmers retained, the flock was re-stocked with 60 ewes bought from John Ismay at Coventry – the man famous for his red braces – along with 24 tup hoggs which were sold as shearlings at Kelso in the autumn of 2002 to average £502 a head and the flock's highest price at Kelso of £1,500.
One of Mr Ismay's rams, Coventry Ted is a current stock ram alongside Scratchmere Kenton, shared with Kenton Foster, of Leyburn, Harmby Moor Captain Fordy.
The rams are scrapie genotype one with the exception of Captain Fordy- an outstanding R2 tup which has been used on R1 ewes. However, Jonathan is concerned that breeding for high scrapie genotype may be to the sacrifice of characteristics in all sheep breeds.
Upcoming stock ram lambs are Coventry Excellence and a half share in Carthorpe Evolution with North Yorkshire breeder Ralph Alderson.
Prior to 2001 the ewes were AId but because of the cost they are now synchronised with Regulin which brings forward the conception date and gives a tight lambing period.
Now Jonathan Wales believes it is better to put money previously used for the laparoscopic AI into buying better rams although AI did help the flock's breeding programme to take a massive leap forward.
He is prepared to spend as much as he can on rams to improve the flock – he paid 2,500gns for Coventry Excellence in Worcester.
Regular buyers of Thackwood rams at Kelso include a number of estates in the north east of England and breeders from much further afield, including Hampshire, Devon and Cornwall and Wales.
Commercially they are crossed with Mules and Texel and Suffolk crosses as well as Lleyns, with many using them on hoggs because of their ease of lambing.
The breed is also very prolific with the Thackwood flock easily averaging a 200 per cent lambing and it going as high as 220 in 2003.
The ewes are good mothers however with the pedigree flock triplet and quad lambs are reared on a milk machine.
The flock lambs in mid January with 95 per cent of the ewes lambing by the end of the second cycle.
They are lambed inside and turned out as soon as the weather permits. Ewes are fed from six weeks before lambing, divided into lambing groups. Feeding continues until eight weeks after lambing.
They are fed a commercial ration up to 75 per cent of which is home-grown barley off 60 acres (10 of which are made into wholecrop) supplemented with molasses, beet pulp and a protein concentrate.
To avoid listeria problems, sheep are not fed silage but good hay. The lambs are creep fed until April when the grass starts to grow.
The top dozen or so lambs are selected with a view to selling them as ram lambs while the rest are kept on to be sold as shearlings. Any sheep that are not considered good enough for pedigree breeding are sold finished.
© Copyright 2005 Jennifer MacKenzie All Rights Reserved.