Glendale Agricultural Society Herd Competition Winners
2009-09-04
This week at The Glendale Show, Glendale Farmers, R W and K Telford of Branton East Side Farm were announced winners of the first ever Glendale Agricultural Society Herd Competition.
Roly Telford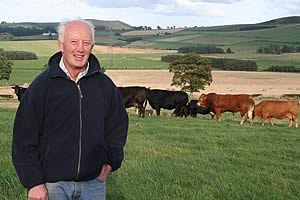 They also received the prize for Best individual animal seen in the competition.
Through this, the Society's first dedicated Herd Competition, GAS wanted to highlight fine cattle breeding for which North Northumberland is renowned.
They were delighted with both the number and quality of the entries and the winners of all the classes are as follows:-
2009 Herd Champion sponsored by Aln Northumbria Vets, HARBRO and Arable Farm Supplies - R W and K Telford of Branton East Side Farm
Reserve Herd Champion - Lilburn Estate Farming Partnership
Best Herd using predominantly a Charolais Bull sponsored by The British Charolais Society Messrs James Herdman Edlingham Newtown near Alnwick
Best Herd using predominantly a Limousin Bull sponsored by The Limousin Cattle Society I Renton and Son, High Highlaws, Morpeth
Best Herd using predominantly an Aberdeen Angus Bull sponsored by The Aberdeen Angus Society Mrs Fiona Skeen Berry Hill Farm near Berwick upon Tweed
Best individual animal seen in the competition sponsored by EBLEX - R W and K Telford of Branton East Side Farm
In total nine herds were judged and Robert Neill who farms at Upper Nesbit, Kelso judged the herds on not only on their individual breed characteristics but how each individual farm was managed. "The standard and quality of the herds was very high and in my eyes they were all winners as they were all so very different. The farmers were all making an excellent job with their different breeds, different farms and different terrain. The overall competition was judged on the basis of, it is not what you have, and it is what you do with what you have."
Branton East Side Farm near Powburn in the heart of the Cheviots is farmed by Roly and Kate Telford. This is very much a family business and they have been farming the 3000 acres since 1985 of which 1400 acres are in the Ingram Valley. Stocking includes 350 suckler cows with over 50 heifers, mainly Limousin cross and 2500 breeding ewes.
Increasingly the Telfords were finding that buyers of store cattle were favouring the Limousins. So they were absolutely delighted to win these awards as it is less than two years ago since they changed from using Blondes Aquitaine Bulls to Limousins.
This has been a gradual process as the older bulls were retired they were replaced over a period of less than three years and from this spring they will have all Limousin Bulls.
Commenting on receiving these awards Roly said: "We are very satisfied that we made the right decision to change and these awards reiterate this for us. This is a good competition as it is something new and creates an extra interest for the people within the area. We have been members of the Glendale Agricultural Society for many many years and would like to thank them very much."
John Guiry Head Livestock Steward for GAS who initiated these awards was delighted with the response: "There was something positive in every herd that was visited and this competition is further testament that Northumberland has some of the premier beef herds in the country. I would like to thank all of the sponsors for their support and all of the individual farms who entered."
For more information about the Glendale Show can be found at their website www.glendaleshow.com

Nothing to Beef About at Glenlivet


Upsall Beef Shorthorn Herd Celebrates Centenary


NBA Welcomes EU Probe on Farm Cross-Compliance Costs