Upsall Beef Shorthorn Herd Celebrates Centenary
2009-08-24
The centenary of Britain's oldest herd of Beef Shorthorn cattle will be marked by a celebratory sale on farm in North Yorkshire next month.
Gerald Turton with Upsall Beef Shorthorn females.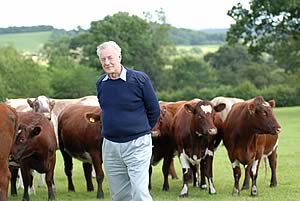 Gerald Turton is the third generation of his family to be involved with the development of the Upsall herd based at the Upsall and Roxby Estate near Thirsk in the heart of Shorthorn country.

To mark the herd's centenary this year, Gerald is staging a celebratory sale on the estate's Park House farm on September 12, conducted by United Auctions (UA), Stirling, enabling established and potential breeders to buy into the herd's bloodlines.

And in its centenary year the polled herd, managed by stockman Laurence Fenton, was awarded the first Most Improved Beef Shorthorn herd prize in Eblex's Beef Better Returns Programme, showing the greatest genetic gain for commercial traits over a 12-month period, as reported to the centralised database run by the English Beef & Lamb Executive (Eblex).

The Upsall herd was founded by Gerald's great uncle, Sir Edmund Turton, when he purchased four pedigree heifers, registering the first bull calf in Coates Herd Book in 1909, when the Beef Shorthorn was in its hey day.

Gerald took on the running of the 1,000-acre predominantly arable estate and the herd in 1960.

"I think the future for the Beef Shorthorn is very encouraging with a number of beef marketing initiatives emerging which will take advantage of the breed's superior meat eating qualities.


Upsall Beef Shorthorn females.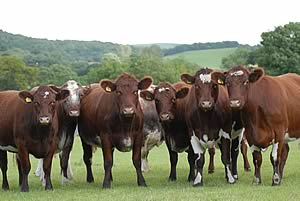 "The Beef Shorthorn is a maternal breed which has unique traits. They make very good mothers and because of their wide pelvic bone they calve easily. They come to puberty earlier than other breeds and they do extremely well on poorer grazing ground.

"Beef Shorthorns are also quiet and easy to manage – another trait which should be of particular importance now when people have less time," said Gerald, whose son, Robin, is the most recent family member to become involved with the herd at Upsall.

The herd is monitored with the SAC Premium Cattle Health Scheme and is vaccinated for BVD, leptospirosis and blue tongue.

With the prospect of the centenary sale, herd numbers have been built up. Seventy animals, including both heifers and proven breeders of all ages from the heart of the herd including one which has produced 10 calves, will make up the catalogue for the sale which will appeal to a cross section of breeders.


A heifer to be included in the sale.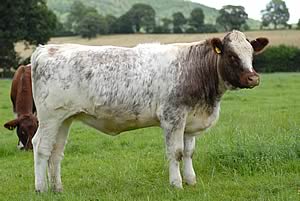 Females will include daughters of Uppermill Recto which produced the Upsall Perth supreme champion and senior champion in 2005.

Daughters of Glenisla Zetor, a son of Fearn Wyvis, will also be included. At +25 he is in the top one per cent for the breed for self replacing index and a trait leader for weight at +42kg at 200 days and +92kg at 600 days.

Progeny from Argonaut of Upsall, which sold at Perth in February this year (2009) with a self replacing index of +26 and a trait leader for weight is also included.

Gerald is a firm believer in recognising cow families and most of the herd's female lines will be represented – the Marigolds, Tessas – four bulls from this family averaged more than £4,000 in 2005 - Lavenders, Clippers and Nonpareils.

Upsall Shorthorns have been bred for length and to a good size, although not too big to cause poaching when outwintered, with good hind quarters. Gerald likes to see a broad muzzle and a big head. They must be hardy and have good locomotion.

The sale starts at 1pm on Saturday September 12.

NBA Welcomes EU Probe on Farm Cross-Compliance Costs


Beef Farmers Head For Glenlivet


Urgent Need to Increase UK Beef Production