Nothing to Beef About at Glenlivet
2009-08-28
Even challenging weather failed to affect attendance at SAC's Beef & Environment Day at Auchorachan Farm, Glenlivet. Well over 300 people turned up form all parts of Scotland, joined by Cabinet Secretary, Richard Lochhead, who was on an informal, fact-finding visit.
Attentive audience at Glenlivet.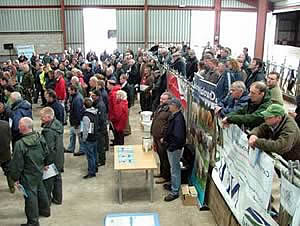 Hosted by the Durno family, the event explored issues surrounding beef production in the hills. There were presentations by SAC staff and a farm tour. Auchorachan is just short of 3,000 acres, rising to 2,000 feet on Crown Estate land. It has 550 Blackface ewes and 160 suckler cows. Farmer Michael Durno, whose father Leslie and son Craig are also involved in the business, is a well-respected cattleman. His mother Jo Durno is known for her tireless activity in support of remote rural communities.
In opening the event, SAC Chief Executive and Principal Bill McKelvey welcomed an apparent change of heart by ministers in Westminster over the need to produce more food at home. He said it was a message Scottish ministers had been delivering for some time. Professor McKelvey told farmers that sustainable livestock production must continue to be an important part of the UK contribution to world food supplies. He promised SAC was working hard to research production techniques which minimised farming's carbon footprint.
Among the well-attended presentations were those addressing herd health issues, feeding efficiency, muck management and balancing the needs of production and the environment. Of particular interest were discussions surrounding the future of beef cows in the hills with the numbers of suckler cows having dropped alarmingly in recent years. Auchorachan cattle are clear of the BVD infection which affects production in many Scottish herds. Professor McKelvey called on more herd owners to take on that challenge.
However the day was not only about learning but also about 'socialising'. In many parts of Scotland the structure of family farming means it is often difficult to leave the farm for any length of time. Events like the day at Auchorachan give farmers the chance to exchange ideas with the 'experts' or others in their position.

Upsall Beef Shorthorn Herd Celebrates Centenary


NBA Welcomes EU Probe on Farm Cross-Compliance Costs


Beef Farmers Head For Glenlivet