Trimble Acquires Rawson Control Systems
15/12/08
Trimble this month announced that it has acquired the assets of privately-held Rawson Control Systems based in Oelwein, Iowa. Rawson manufactures hydraulic and electronic controls for the agriculture equipment industry, including variable rate planter drives and controllers, variable rate fertilizer controllers, mechanical remote electric control valves and speed reducers.
Trimble Field Manager Display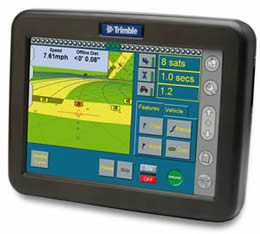 Rawson's products work in conjunction with the Trimble® FieldManager™ Display which monitors and controls up to four inputs such as seed, fertilizer and crop protection. The controllers can be operated either automatically by Global Positioning System (GPS) solutions or manually, both of which are supported by Trimble's portfolio of assisted steering or manual guidance products. With the addition of Rawson's technology, Trimble adds to its fully-integrated solution in the flow and application control market, allowing growers to choose how to guide, monitor, control and automate their farm machinery.
Rawson's offerings include the ACCU-RATE variable rate controller, a versatile solution that mounts to planters, drills, air seeders, granulars or air spreaders, and liquid applicators with constant-volume pumps. The processor can be programmed to accurately control two different seed populations or to simultaneously change seed at one rate, and fertilizer at a different rate, when using two Geographic Information System (GIS)-based prescriptions. The controller allows growers to gain precision and increase yields by varying the rate of seed and fertilizer applied, both easily managed from the tractor cab.
Rawson ACCU-RATE controller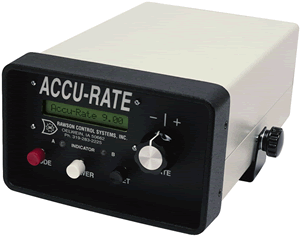 Rawson's mechanical and remote electric control valves are built for sand and salt spreader valve applications or for agriculture. Its dual, manual remote proportional valves offer flow control in a single, rugged package. Rawson's line of speed reducers matches engine speed to driven equipment speed, allowing both the engine and load to operate at peak efficiency. Options in speed reduction include heavy duty single pinion, double duty single pinion, twin pinion or heavy duty smart speed reducer.
"We are excited to add the Rawson line of drives, controllers and complementary products to our flow and application control solutions portfolio. Rawson is a leader and their products are affordable, simple to use and accurate," said Erik Arvesen, general manager for Trimble's Agriculture Division. "Rawson complements our recent Tru Count acquisition. Our focus is to provide complete, end-to-end solutions for our customers, especially in the application control arena. Rawson drives allow customers to vary the seed rates while Tru Count clutches allow customers to shut off individual rows. Trimble's solutions for precision planting which began with displays, GPS-based vehicle and implement guidance, are now the most comprehensive in the industry."
"Rawson adds hydraulic system expertise to Trimble's strength in electronics and GPS technology. Together we believe this will be a great combination," said Allan Lorenc, president, Rawson Control Systems. "Our combined technologies will allow Trimble to offer enhanced solutions for planters and spreaders by delivering greater control of seed and fertilizer applications."
The Rawson Control Systems business will be part of Trimble's Agriculture Division.


About Rawson Control Systems
Rawson Control Systems, Inc., founded in 1970, is a diversified high-tech manufacturer. Rawson designs, builds, and markets hydraulic and electronic controls for the farm and mobile equipment industry, including precision GPS variable rate drive products, control valves and speed reducers. The manufacturing plant, assembly area and main office are located in Oelwein, Iowa.

About Trimble

Trimble applies technology to make field and mobile workers in businesses and government significantly more productive. Solutions are focused on applications requiring position or location—including surveying, construction, agriculture, fleet and asset management, public safety and mapping. In addition to utilizing positioning technologies, such as GPS, lasers and optics, Trimble solutions may include software content specific to the needs of the user. Wireless technologies are utilized to deliver the solution to the user and to ensure a tight coupling of the field and the back office. Founded in 1978 and headquartered in Sunnyvale, Calif., Trimble has a worldwide presence with more than 3,800 employees in over 18 countries.



New John Deere Guidance Systems for 2009


Trimble Acquires Tru Count Assets to Expand its Precision Agriculture Solutions


More than 20,000 John Deere Foragers Delivered to Customers