More than 20,000 John Deere Foragers Delivered to Customers
11/12/08
Since unveiling its first self-propelled forage harvester, a model 5400, in the 1970s, John Deere has produced more than 20,000 units worldwide.
John Deere 7750i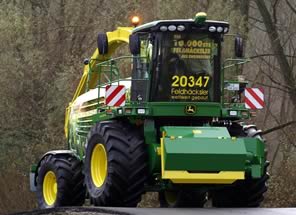 Since the relocation of forager production from the United States to Europe in 1992, 10,000 forage harvesters have been manufactured at the Zweibrücken factory in Germany, which produces machines for worldwide markets.

The 10,000th Zweibrücken forager, an 'intelligent' 625hp 7750i model, has been handed over to contractor Norbert Hackstein of Wachtendonk (Northrhine-Westfalia, Germany), a customer of John Deere dealer Carl Posterz in Grefrath near Dusseldorf.

The 7750i can harvest up to 10 rows of maize in one pass and handle up to 300 tons of forage per hour. Equipped with AutoTrac satellite guided automatic steering and full scale harvest documentation, John Deere self-propelled foragers are highly productive machines which allow round-the-clock operation, especially when used with a professional fleet management option such as the new generation JDLink telematics system.

In order to maximise feed quality, contractors and large livestock farmers can make use of John Deere's exclusive HarvestLab feature. This analyses the dry matter content of the forage being harvested with a near infra-red (NIR) sensor and automatically adjusts for optimum chop length via the infinitely variable length of cut (IVLOC) transmission. To prevent fermentation losses in the clamp or silo, John Deere foragers can also apply silage additives on the move, using a variety of third party application systems.

In an industry first, John Deere introduced a kernel processor in the mid-1980s. This features two steel rollers that grind the kernels by applying different roll speeds, to make the feed more digestible. In recent years self-propelled foragers have become increasingly versatile. Besides producing grass and maize silage, they can also harvest renewable energy crops such as corn, miscanthus and fast growing trees, or short rotation coppice (SRC).

Claas GPS Pilot Steering Solutions


New Claas Apprentice Graduates


New Dealership Off to a Flying Start with McCormick Tractors