Trimble Acquires Tru Count Assets to Expand its Precision Agriculture Solutions 31/10/08
Trimble announced today it has acquired the assets of privately-held Tru Count, Inc., of Ames, Iowa in an all cash transaction. Tru Count is a leading manufacturer of air and electric clutches that automate individual planter row shut-off. Financial terms were not disclosed.
Tru Count electric clutch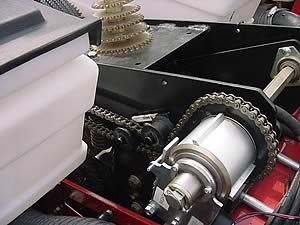 Tru Count manufactures and distributes air and electric clutches that work on a variety of planters, regardless of make or model. The low-cost Tru Count Air Clutch is placed on each planter row and is controlled with compressed air – pneumatically from the tractor cab by a Global Positioning System (GPS) system or manual controller. The technology makes it easier for farmers to avoid over planting seed and can save considerable input costs, especially in today's market.

Tru Count clutches are compatible with Trimble's GPS guidance technology, which is a key enabler for their equipment. The combined technology will allow farmers to select the best solution available for use with the different vehicles and equipment on their farm. Tru Count is an industry leader with award-winning, successful technology and was recently recognized by Farm Industry News with a 2007 FinOvation Award for best reader interest in a new product.

"With the asset acquisition of Tru Count, we have an opportunity to partner with an industry leader in a technology that presents an exciting growth opportunity for us," said Erik Arvesen, general manager, Agriculture Division of Trimble.
"We are well-positioned to support the flow control and application market and Tru Count offers affordable, industry-leading solutions that work with virtually any planter. Most importantly, the interoperability of their products supports Trimble's strategy to provide universal brand compatibility while offering an affordable, total solution for farmers to manage input costs and save money."

"I am excited about the opportunity to take our business to the next level and Trimble is the right partner to take us there," said Jeff Dillman, president of Tru Count. "The customer demand for air clutch technology continues to grow and we are excited to unite with Trimble to expand our reach outside of North America. Trimble is the best in the business at what they do and GPS is a key enabler for Tru Count technology. We believe this is the perfect match to provide a total solution for farmers."

The Tru Count business will be part of Trimble's Agriculture Division.


About Tru Count, Inc.

Founded in 1982, Tru Count began with a simple mechanical acre counter, and then in 1988, developed electric clutch technology. Tru Count has 30 employees and the company's products are available through more than 600 dealers nationwide.

For more information, visit: www.trucount.com


About Trimble

Trimble applies technology to make field and mobile workers in businesses and government significantly more productive. Solutions are focused on applications requiring position or location—including surveying, construction, agriculture, fleet and asset management, public safety and mapping. In addition to utilizing positioning technologies, such as GPS, lasers and optics, Trimble solutions may include software content specific to the needs of the user. Wireless technologies are utilized to deliver the solution to the user and to ensure a tight coupling of the field and the back office. Founded in 1978 and headquartered in Sunnyvale, Calif., Trimble has a worldwide presence with more than 3,800 employees in over 18 countries.

For more information, visit Trimble's Web site at www.trimble.com.

Trimble Acquires Rawson Control Systems


New John Deere Guidance Systems for 2009


More than 20,000 John Deere Foragers Delivered to Customers