Claas GPS Pilot Steering Solutions
11/12/08
From January 2009, all CLAAS GPS PILOT guidance systems will come as standard with the new Outback S3 terminal, which provides far greater functionality and information than previous terminals.
Outback S3 terminal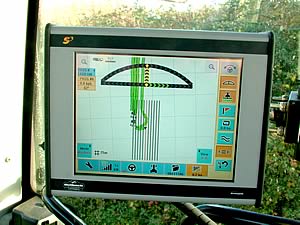 The new Outback S3 terminal has a 1GB internal memory and incorporates an 8.4 inch colour touchscreen through which the user can access menus and information. A touch screen QWERTY and numerical keyboard is accessible so that data and field information can be easily inputted. The terminal also incorporates a USB connection so that data can be quickly and easily exchanged, or the software updated.

Among the many new features and functions there is the ability to:
Store multiple A-B tracks for different fields
Enter and store different A-B tracks for individual fields (e.g. one for cultivating and one for spraying)
Choose from four different views depending on user preference
Zoom in and out for a better overview
Create and display border lines that allow field areas to be calculated
Display the area traversed and the corresponding size of the area
Point mark
Drop and name 'flags' to identify specific problems
Sort and store previous tracks and add information such as field size, operation, name and date

The new Outback S3 terminal is suitable for use with all CLAAS guidance systems, which have been grouped together under the CLAAS GPS PILOT banner.

Four systems are available, depending on the level of accuracy the user requires.
GPS PILOT – Egnos
With a pass-to-pass accuracy of between 15-30cm, the Egnos based system is ideal for those who do not need a high level of accuracy, or for those looking for an entry into steering guidance with the possibility to upgrade to more accurate systems later.


Baseline HD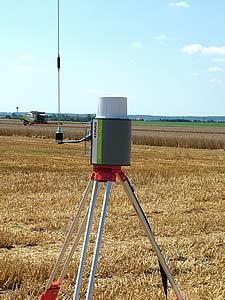 GPS PILOT – Omnistar HP
To achieve a higher degree of accuracy, in addition to the three satellite signals used by Egnos, Omnistar HP uses a fourth differential signal from a stationary satellite over the Equator, for which a licence fee has to be paid. This gives a pass-to-pass accuracy of 5-10cm so is suitable for auto-steering but does require a clear line-of-sight to the south.

GPS PILOT – Baseline HD
Baseline HD is unique to CLAAS and uses a tripod-mounted base station to provide an accuracy of 4-8cm, the same as similar RTK systems but far less expensive. Unlike other tripod systems, the Baseline HD unit also incorporates an in-built 36-hour battery, making it very compact. The system uses an FM signal, with a range of about 5Km, and does not rely on line-of-sight, so is more robust and does not get 'lost' as easily.

GPS PILOT – RTK
With an accuracy of 2-3cm, RTK provides the highest level of accuracy. The RTK system uses a fixed base station, normally fitted to a tall building, that issues a dual frequency FM signal with a range of up to 20km. Unlike other RTK systems on the market, the CLAAS RTK system also incorporates a security feature so that only authorised units can connect into it.

New Claas Apprentice Graduates


New Dealership Off to a Flying Start with McCormick Tractors


Match Ploughing Win with McCormick and Stamford Tractors